Permits & Reservations
At Alibates Flint Quarries National Monument, reservations and permits are required for a few types of activities. Scroll down to read more.
---
Quarry Tours
Check availability of Ranger-led Quarry Tours during the winter months of November – February by calling 806-857-6680. During summer months tours are offered at 10 A.M. and 1 P.M.

During the season, you may visit the quarry sites by ranger-guided tour only.
Tours are offered daily, as weather and staffing allows. See all of our Ranger guided programs at
www.nps.gov/alfl/planyourvisit/rangerprograms.htm
Quarry tours typically take 2 hours and involve a moderate one-mile round trip hike. The trail to the quarries is covered in loose gravel and includes stairs. You will gain approximately 170 feet of elevation as you hike up to the quarry sites on the top of the mesa. Bring water and wear comfortable, sturdy, closed-toe walking shoes or hiking boots. It is often very windy on the mesa, so a jacket is recommended. You might also bring sunscreen, a hat, and a walking stick.
Please Note: This hiking tour is not recommended to visitors with health conditions including heart problems, breathing problems or artificial knees/hips.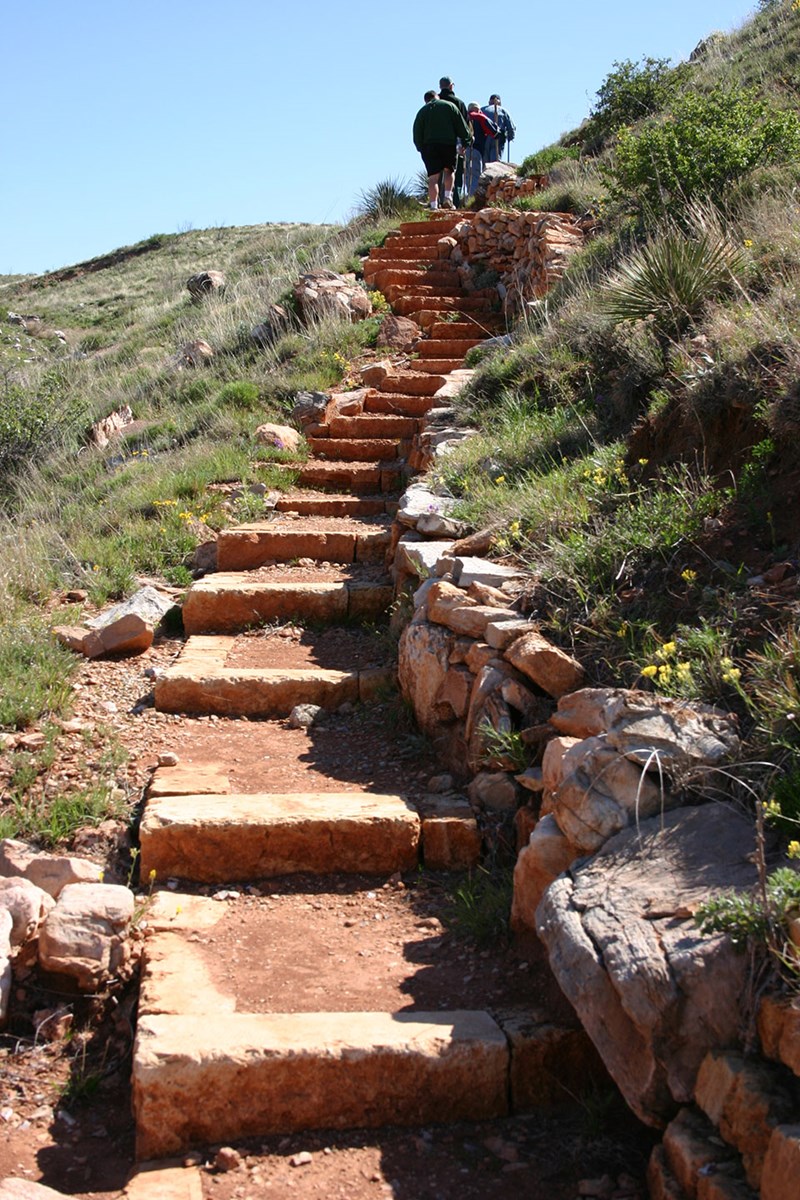 Special Permits:
Group activities of more than 15 visitors such as family reunions, company picnics and group campouts require special permits. Please call park headquarters at 806-857-3151 for information and guidelines.
Changes to Commercial Filming Permits on Park Land
On January 22, 2021, the US District Court for the District of Columbia issued a decision in Price v. Barr determining the permit and fee requirements applying to commercial filming under 54 USC 100905, 43 CFR Part 5, and 36 CFR Part 5.5 are unconstitutional. The National Park Service has issued interim guidance as of February 22, 2021, to manage filming activities. Under the interim guidance, filming activities may require a permit if they pose a threat to park resources or the visitor experience. The National Park Service intends to update regulations addressing filming activities that are consistent with the outcome of Price v. Barr. Once effective, those regulations will replace and supersede the interim guidance.
1. Special Use Permits are required for functions such as fishing tournaments, weddings, special events, filming, etc.
Commercial Use Authorization

What is a Commercial Use Authorization (CUA)?
A CUA allows an individual, group, company or other for-profit entity to provide commercial visitor services within a National Park area. Services provided to NPS employees are not covered by CUAs (e.g., Schwan's grocery delivery). Commercial Use Authorizations (CUAs) are required for all commercial visitor services provided by a company or organization not based in the park.

What does the law and regulations say about CUAs?
PL 105-391, Section 418 and 36 CFR 5.3 require NPS issue and charge a reasonable fee for CUAs. The law requires that NPS ensure CUAs:
Are accomplished in a manner consistent to the highest practicable degree with the preservation and conservation of park resources and values;
Are consistent with the purpose for which the Park was established;
Comply with all applicable management plans, park policies and regulations;
Are subjects to conditions promoting the safety of visitors;
Limit the liability of the United States Government;
Are subject to a reasonable fee that at a minimum recovers administrative and management costs of the CUA.
Who needs a CUA?
A CUA is required if an entity provides a good, activity, service, or other function to visitors in a NPS managed area, uses park resources and results in compensation, monetary gain, benefit or profit.
2. Commercial Use Authorization
Last updated: February 14, 2022