NATIONAL JUNIOR RANGER DAY APRIL 25, 2015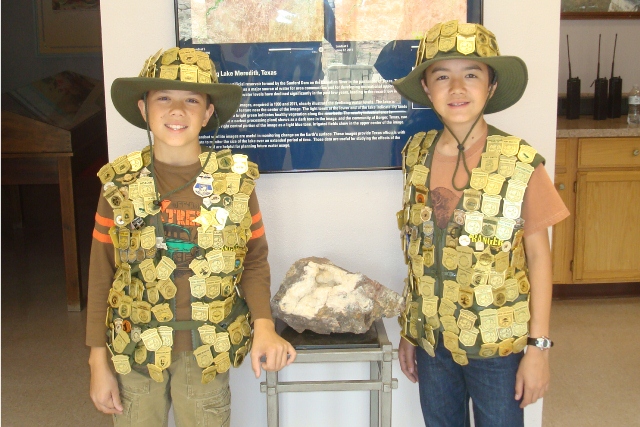 News Release Date:
April 22, 2015
Fritch, Texas –Lake Meredith National Recreation Area and Alibates Flint Quarries National Monument will celebrate National Junior Ranger Day this Saturday, April 25, at the Alibates Visitor Center located off Cas Johnson Road. This event is part of National Park Week, April 20-25, when entrance fees into national parks across the country will be waived.
Did you know… ·      
Junior Ranger programs began as early as the 1920s?·      
Most JuniorRangers try to earn a badge or patch in every park they visit –some have hundreds of badges and patches?·      
At Lake Meredith and Alibates, Junior Rangers can earn two badges –one for each park?·      
Junior Rangers can learn about National Parks while playing games and activities onthe Web Ranger site?https://www.nps.gov/webrangers/
The Lake Meredith and Alibates Junior Ranger Day will begin at 10:00 am and run until 4:00 pm, with activities occurring throughout the day. Participants are invited to arrive at any time and spend a few hours or the entire day. Pick up a program schedule at the Alibates Visitor Center upon arrival.
Children will have the opportunity to study native mammals, learn how to build a campfire or learn about knot tying. Participants can watch flintknapping demonstrations, throw a dart using an atl-atl (an early Native American hunting tool), and participate in archery, using bow and arrows. Ranger-guided hikes and petroglyphs rock painting will also be provided to complete the requirements to become an Official Junior Ranger. Parents can participate in activities along with their children, watch the award-winning Alibates film, or tour the newly installed museum exhibits. While visiting, browse marked down items in the park bookstore. All activities are free and open to the public.
Schedule of Events
10:00 a.m. Welcome and Introduction
10:15 a.m. Build Your Own National Park
10:45 a.m. Mammals of the Texas Panhandle*
11:15 a.m. The 10 Essentials*
 
12:30 p.m. Knot Tying
1:00 p.m. Building a Campfire
1:30 p.m. Mesquite Trail Discovery Hike
2:15 p.m. Archery & Atlatl Demonstration
*Programs tied to tables and props will be set up all day for viewing.
For more information or directions, contact Lake Meredith Headquarters at 806-857-3151 or Alibates Visitor Center at 806-857-6680.

Last updated: April 22, 2015