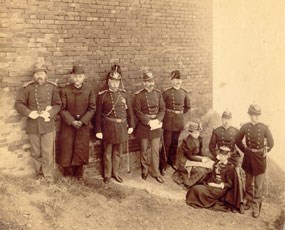 "I have heard foolish talk about an attempt to seize the strongholds of government under my charge. Knowing this, I have prepared for emergencies, and will defend the property of the United States with every resource at my command, and with the last drop of blood in my body. Tell that to our Southern friends!"
Colonel Albert Sidney Johnston,
Commander of the Department of the Pacific,
U.S. Army, 1861
With these fiery words, Col. Johnston deflated Confederate sympathizers' hopes that he would help them overtake the San Francisco Bay defenses and bring California into the Confederacy. Though a Southerner by birth, Johnston sent 10,000 muskets and 150,000 cartridges of ammunition to Alcatraz Island, the primary Union defense post of the bay. Fortress Alcatraz was preparing for battle.
Nobody attacked the rugged island fortress during the Civil War, and the weapons became obsolete. However, Alcatraz Island was well suited geographically to incarcerate a growing number of military prisoners and some unusual civilian convicts.

To learn more about the National Park Service's Sesquicentennial Commemoration of the Civil War, please visit The Civil War: 150 Years.