The Man Who Tried to Kill Al Capone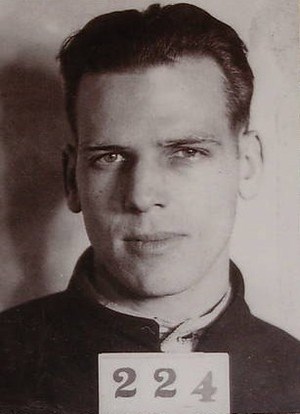 In 1934, James "Tex" Lucas was serving 30 years in federal prison for bank robbery and auto theft. The Texas native also had a detainer in his home state that totaled 128 years. Charges included murder, robbery, and escape.
In January of 1935, he and his crime partner Jack Hardin were transferred to Alcatraz from Leavenworth for closer custody. Lucas was 22 years old.
Lucas proved to be a troublemaker at Alcatraz. He participated in a work strike in 1936 and was known to engage in clandestine conduct on a consistent basis. On June, 23, 1936, Lucas viciously attacked Al Capone in the shower room. Using half of a pair of scissors, he slashed the Chicago gangster several times. Capone suffered a minor chest wound and superficial cuts to his hands. All Lucas said in his own defense was, "Well... he threatened to kill me." He subsequently lost all his "good" time, 3,600 days. This amount could have been deducted from his time at Alcatraz, or spent in another federal penitentiary.
Almost two years later, he took part in a violent escape attempt. While at work in the Model Industries building on May 23 1938, Lucas, Thomas Limerick, and Rufus "Whitey" Franklin overpowered Officer Royal C. Cline and beat him to death with a claw hammer. Once on the roof, they assaulted the guard tower. From the tower, Officer Harold P. Stites shot and killed Limerick and wounded Franklin. Lucas surrendered without incident. Franklin and Lucas received life sentences for the murder. Both men spent long terms in isolation. Lucas was returned to the general population after six years; Franklin after 14.
Within a few years, "Tex" was transferred and later paroled in 1958. Franklin was freed in 1974 and died shortly thereafter. Officer Stites was killed during the 1946 prison riot.
Lucas briefly returned to prison at McNeil Island for parole violation. He received a presidential commutation of sentence and was released.
Eventually, Lucas married and raised four children. He worked in the oil business and remained a law-abiding citizen for the rest of his life, but is remembered as the man who stabbed Al Capone. Lucas died on November 28 1998.
Last updated: August 30, 2019