Historic Preservation on Alcatraz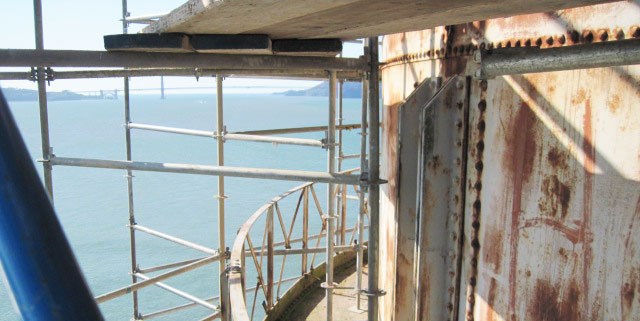 Preservation Projects on Alcatraz Island
Here at Golden Gate National Recreation Area, we preserve and rehabilitate many different kinds of cultural resources, including historic buildings, artifacts, archaeological sites, structures and landscapes. Preservation projects could include building a new trail, seismically strengthening a masonry building or monitoring an archeological dig.
All construction and rehabilitation on Alcatraz Island is especially complicated because of its unique site. The NPS, along with its partners and contractors, have to use commercial barges and ferries to transport all the necessary building supplies. Because the island doesn't have its own water source, contractors have to ship their own water to make concrete.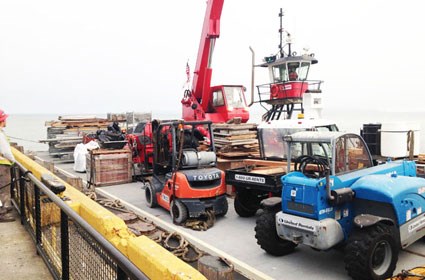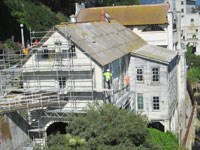 Alcatraz Guardhouse

Learn about the complicated construction project at one of the island's oldest buildings.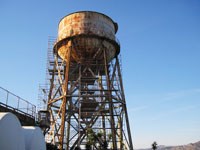 Alcatraz Water Tower

Learn how the Native American Occupation of the island in the late 1960s influenced the maintenance of this structure.



The Definition of "Historic Preservation"
"Historic preservation" is the act or process of applying measures necessary to sustain the existing form, integrity and materials of a historic property. For example, a preservation project can be converting a historic army barracks into an office building or reusing a historic airplane hangar as a small aviation museum. All National Park Service preservation projects must comply with national standards and guidelines. The preservation guidelines exist to ensure that careful analysis is conducted before the professionals make any physical changes to historic structures and landscapes. Because of these preservation guidelines, you should be able to walk into that new office building or aviation museum and still feel and understand how that historic building was originally used.
Here at the park, our historic preservation professionals include historic architects, historic landscape architects, historians, architectural historians, archeologists, planners, conservators and archivists. Before we start any project, we:
conduct research to fully understand the historic significance of the resource




evaluate all alternatives to determine levels of impact




weigh all decisions to ensure the safety and future of the resource
Last updated: August 28, 2019