News Release
Reopening of the African Burial Ground's Visitor Center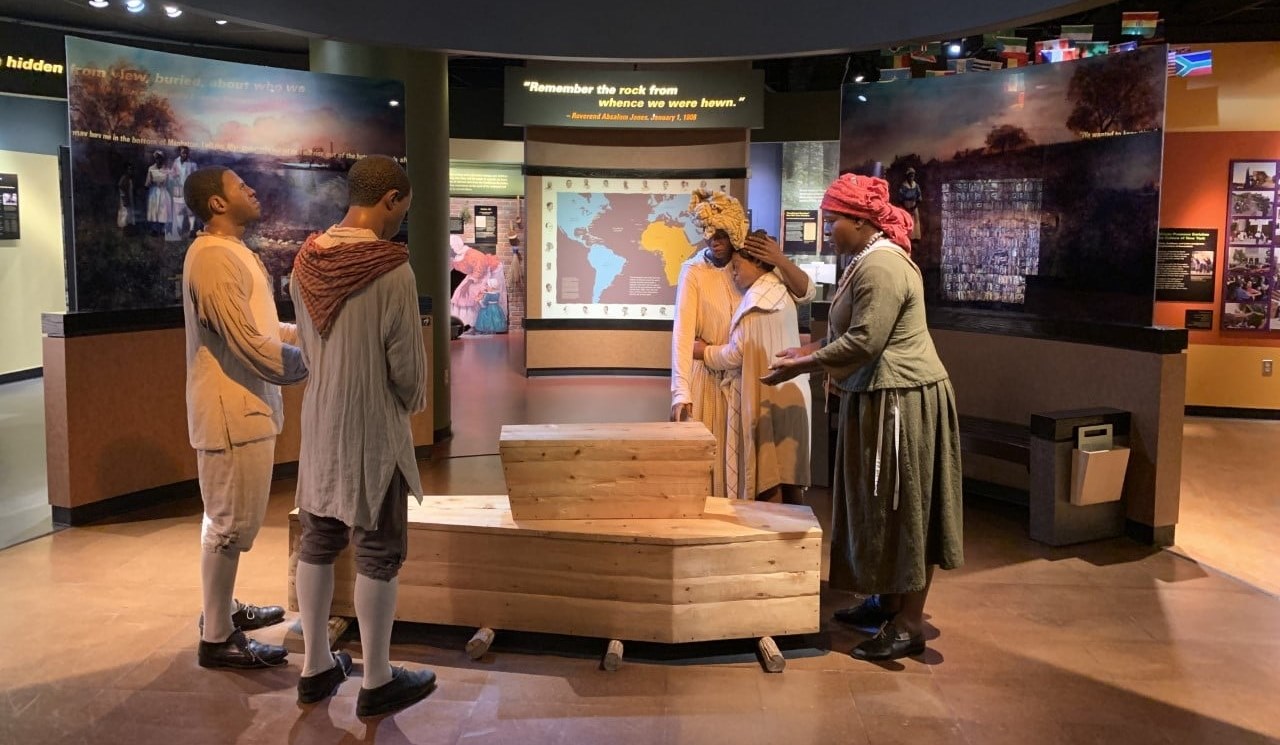 News Release Date:
October 14, 2021
New York, NY
– The National Park Service is pleased to announce that beginning Thursday, October 14, 2021, the African Burial Ground National Monument will increase access to the site by opening the indoor Visitor Center, including the exhibits. The hours of operation will continue to remain the same from 10:00 AM to 4:00 PM, Tuesdays through Saturdays.
With public health in mind, the following operations remain closed/suspended at this time: restrooms, theater, and park store.
Visitors will enter through the rotating doors of 290 Broadway, located on the corner of Duane Street and Broadway, then visitors will exit through the Visitor Center doors facing Broadway.
Reservation System
: To visit the site, a reservation needs to be made by calling 212-238-4367 or by sending an email to African_Burial_Ground@nps.gov with your desired date and time of visit as well as number of guests. Reservations are only valid upon receipt of a confirmation. Twelve slots will be made available each day, starting at 10:00 AM, 10:30 AM, 11:00 AM, and repeating that pattern until closing time at 4:00 PM. Each slot will accommodate up to 10 persons. If a person is more than ten minutes late to their time slot, they forfeit their reservation and will need to coordinate a future reservation.
COVID-19 Precautions
: To reopen the Visitor Center, while reducing risk of COVID-19, staff at the African Burial Ground Monument would like to implement the following protocols: encouraging social distancing, proper use of face masks required, and a safe flow of traffic entering and exiting the Visitor Center.
While these areas are accessible for visitors to enjoy, a return to full operations will continue to be phased and services may be limited. When recreating, the public should follow local area health orders (New York City: www1.nyc.gov/site/coronavirus/index.page, New York State:  https://coronavirus.health.ny.gov/home) practice Leave No Trace principles, avoid crowding and avoid high-risk outdoor activities. 
The CDC has offered guidance to help people recreating in parks and open spaces prevent the spread of infectious diseases. We will continue to monitor all park functions to ensure that visitors adhere to CDC guidance for mitigating risks associated with the transmission of COVID-19 and take any additional steps necessary to protect public health.
Details and updates on park operations will continue to be posted on our website (https://www.nps.gov/afbg) and social media platforms Facebook, Twitter, and Instagram. Updates about NPS operations will be posted on www.nps.gov/coronavirus. 
About the National Park Service. More than 20,000 National Park Service employees care for America's 419 national parks and work with communities across the nation to help preserve local history and create close-to-home recreational opportunities. Learn more at www.nps.gov, and on Facebook, Instagram, Twitter, and YouTube.
Last updated: October 14, 2021