For Teachers
"....Learning is not attained by chance, it must be sought for with ardour and attended to with diligence....: Abigail to John Quincy, 1780
There are several great ways for your students to "step into history." We offer Park Ranger guided tours of the historic homes and grounds, and a variety of curriculum based education programs. For the Park Ranger guided tours you can choose to tour only the John Adams and John Quincy Adams Birthplaces which is thirty minutes or include the Old House at Peace field which is one hour. Times vary for the length of the curriculum based education programs.

If you're interested in the education programs below, or in a guided tour of the historic homes for your school group, please
click here to obtain an Academic Fee Waiver.
Curriculum Based Education Programs

As of 2020, our education program offerings are suspended. The number of students and the physical spaces are limited due to the historic nature of the buildings and due to current health and safety protocols. Please contact the Park headquarters with any questions, 617-773-1177.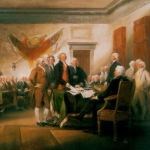 Pen & Parchment: The Continental Congress
Students assume the roles of delegates to the Continental Congress and "journey" from the farm at Penn's Hill to Pennsylvania to take part in the crucial debate over the Declaration of Independence and, finally, to sign it. This program requires classroom preparation prior to your visit and is best suited for fifth grade and up.Pen & Parchment: The Continental Congress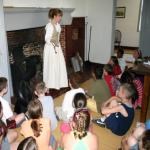 Abigail Adams: Patriot on the Homefront
Join Abigail in her cottage at the foot of Penn's Hill and experience a day in her life during the Revolutionary War. She served as "farmeress, "School Mistress," Mother, Writer, and Dearest Friend to husband John Adams during his long absence of some 10 years. Students will experience the many challenges Abigail and her family faced each day and the sacrifices they made for the cause of independence.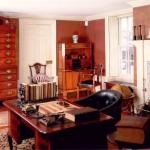 From Penn's Hill to Peace field
Students of every age have the opportunity to join a Park Ranger and walk in the footsteps of presidents and first ladies;patriots and diplomats;and writers and historians. The Adamses were a busy family who collectively served their country for some 200 years. Tours are conducted at the John Adams and John Quincy Adams Birthplaces and are approximately thirty minutes, and the Old House at Peace field, which are approximately one hour.
This tremendous devotion to the public interest, this vitality which goes from generation to generation down to the present is really the most exceptional scarlet thread which runs throughout the entire tapestry of American political life. John F. Kennedy, 3 October 1961


Last updated: December 23, 2021