John Adams Biography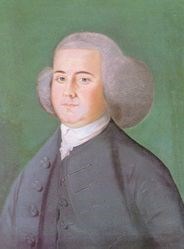 Early Life
John Adams, son of Deacon John Adams and Susanna Boylston, was the fifth generation from Henry Adams who reached the shores of America, from England, in 1633. Henry with his wife and eight children was given a grant of forty acres of land, not far from where Deacon John Adams and Susanna Boylston Adams brought up their three sons, one of which was named John Adams. John Adams was the oldest of the three sons and at an early age began to attend schools in the community of Braintree. His father served as a moderator at town meetings and inspired John to take an interest in community affairs. Upon completion of his preliminary course of study at local schools, John Adams attended Harvard College where he received an A.B. in 1755. After graduation, the future United States President briefly taught school in Worcester, Massachusetts. There he was influenced by attorney, James Putnam, to pursue a career in law. John studied law under Putnam and then returned to Braintree to be presented to the Bar.
Young Lawyer
John Adams was kept busy trying to establish himself as a lawyer, but often had time to socialize. He grew more and more fond of Parson William Smith's daughter, Abigail, and became a frequent visitor to their home in nearby Weymouth, Massachusetts. Abigail was exceptionally intelligent and spent much of her free time reading the books in her father's extensive library. The future First Lady also learned much from guests she met while staying with her grandfather Colonel John Quincy, who was one of the most prominent citizens in the Massachusetts Bay Colony. Abigail's intelligence, strong interpersonal skills and strength of character made her ideally suited for lifelong partnership through marriage to a man with aspirations of a career in public service. John was eager to pursue his relationship with Abigail Smith but realized the responsibility that marriage entailed. Therefore, Adams set out to organize and improve the cottage and farmland that he inherited upon the death of his father in May of 1761. In October of 1764, with this work completed, John married Abigail and together they moved into the small farmhouse that three years later became the birthplace of their son, John Quincy Adams, the Sixth President of the United States. John Adams' law career rose from a small practice carried out from his Braintree farmhouse to a well established firm with clients as wealthy and prominent as John Hancock. Throughout this rise John traveled the court circuit and often was away from home for extended periods, a condition that forced John and Abigail to become skilled letter writers. Eventually, Adams gained notoriety and became one of Boston's most sought after attorneys. John built his reputation on fairness and therefore agreed to defend the British Officers accused of murder resulting from the Boston Massacre.
Patriot
Although John Adams could defend British soldiers on points of law, he was an ardent critic of Great Britain's' policies. In June of 1774 Adams was elected to go to Philadelphia as a delegate from Massachusetts to the First Continental Congress. Here, representatives from the American Colonies met to discuss their opposition to England's Colonial Government. John was an active participant at this meeting and the subsequent Second Continental Congress. During the course of his attendance at these sessions Adams proposed George Washington as Commander-in-Chief of the Continental Army, and argued forcefully for and helped his friend, Thomas Jefferson, to draft the Declaration of Independence. In addition, John Adams laid the cornerstone of U.S. foreign policy by drafting the "Model Treaty of 1776", which sought to structure American foreign relations on the basis of free trade with all nations but, permanent alliances with none. In 1777, Adams briefly retired from public service because of the emotional and financial strains that his long absence from Braintree was putting on his family. This retirement had only commenced when John received word that the Continental Congress appointed him as a Joint Commissioner to negotiate for Peace with Great Britain. The assignment obligated Adams to travel to Europe and forced the Adams family to endure the hardship of separation for their nation's well being. At Abigail's urging, John Adams took his oldest son, John Quincy Adams, on his diplomatic mission to France in order to give the boy international experience and provide for a second generation of enlightened leadership in U.S. foreign relations. During John's absence Abigail managed the farm, supervised the schooling of their children and kept her husband informed of all the events taking place at home.
Diplomat
Upon arrival in Paris, Adams discovered that Benjamin Franklin had already negotiated a trade and alliance treaty with France. However, the financial accounts of the U.S. representatives were in such disarray that John remained in Europe for a year restoring order to the financial affairs of the American Mission. With this objective completed and no prospects of peace with England on the horizon, Adams returned to America in time to be elected as Braintree's delegate to the Massachusetts Constitutional Convention. John was the principal framer of the product of this convention and today the Massachusetts Constitution is the oldest surviving written constitution in the world. Shortly after this success, Congress ordered Adams to return to Paris to serve as first commissioner of the delegation to negotiate Treaties of Peace and Commerce with Great Britain. This time, John Quincy, and his brother Charles, accompanied their father on the long voyage across the Atlantic. During the course of the rest of the Revolutionary War, the future President arduously labored to diversify United States foreign relations by attempting to gain diplomatic recognition of American Independence from a number of European states. In 1782, Adams' efforts were rewarded when Holland formally recognized, signed a Treaty of Amity and Commerce with, and agreed to loan the United States five million Dutch Guilders. Within a year of his success in the Netherlands, John Adams took part in his crowning achievement as a diplomat when he negotiated and signed the Treaty of Paris, which secured recognition of the United States' independence from Great Britain. After the war Adams remained in Europe until 1788, strengthening U.S. foreign relations by securing more loans from Holland, concluding treaties of amity and commerce with several European nations and serving as the first United States Minister to Great Britain. John took advantage of the opportunity that peace provided to reunite his family. Abigail and daughter Nabby sailed to Europe in 1784 and brought happiness to the remainder of John Adams' diplomatic tenure abroad. more...
Last updated: March 31, 2012