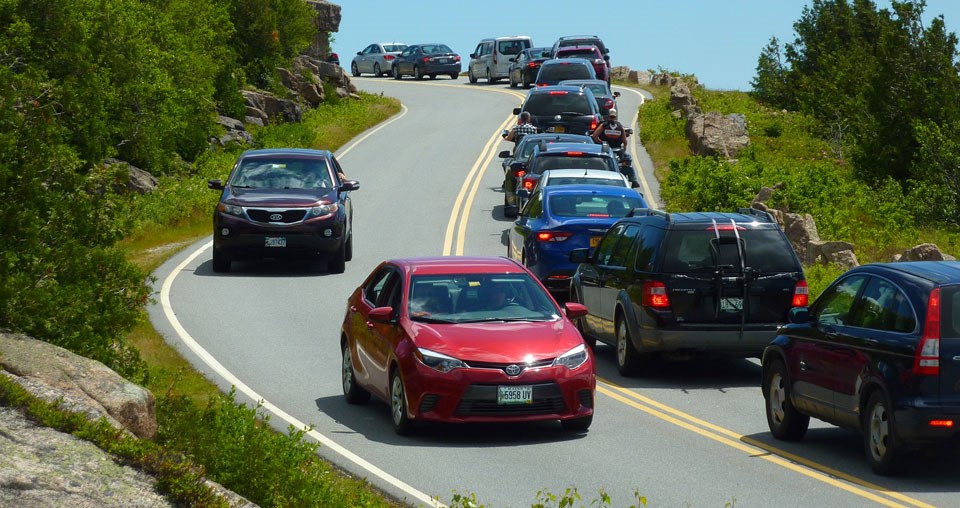 How You Can Avoid Traffic Jams
Always visit Acadia with a back-up plan. If a parking lot or area is full when you arrive, pick a new destination and protect the park by not adding to congestion.
Avoid long lines by buying your entrance pass online, and printing a copy prior to your arrival.
Leave your car where you are staying, then walk on a village connector trail, ride your bike, or take the fare-free Island Explorer bus into Acadia.
Enjoy a car-free biking experience by using Acadia's carriage roads. Wear a helmet and watch your speed for a safer ride.
Enjoy a summit view by hiking one of Acadia's historic trails. Stay on established trails and wear sturdy, enclosed hiking shoes for a safer hike.
Don't miss Acadia at night. Seek out a moonrise over a beach, shooting stars over a mountain, or owl calls echoing into the stillness of a forest trail.
Avoid Cadillac Mountain crowds at sunrise and sunset by picking a new place or new way to experience these magical moments. Watch sunrise along Ocean Drive or take a sunset boat ride.
Do your favorite things at new times of the day. Visit Acadia early morning or late afternoon to find less-crowded experiences.
Visit in winter, spring, or late fall, to experience Acadia at its most peaceful.
See Acadia in new ways, from a boat, an outer island, or another place new to you.
Make Maine your destination, not only Acadia. Find the experiences and meet the people that make this place uniquely Maine.
Spend the middle of the day, the park's busiest time, exploring activities around Acadia in museums, libraries, historical societies, gardens, galleries, gift shops, and other local venues.
Extend your Maine adventure by bringing your passport to explore national parks in Canada—make it a "Two Nation Vacation" www.two-nation-vacation.com
Find a park ranger in Acadia and ask about her or his favorite Maine experience.