Plan Your Visit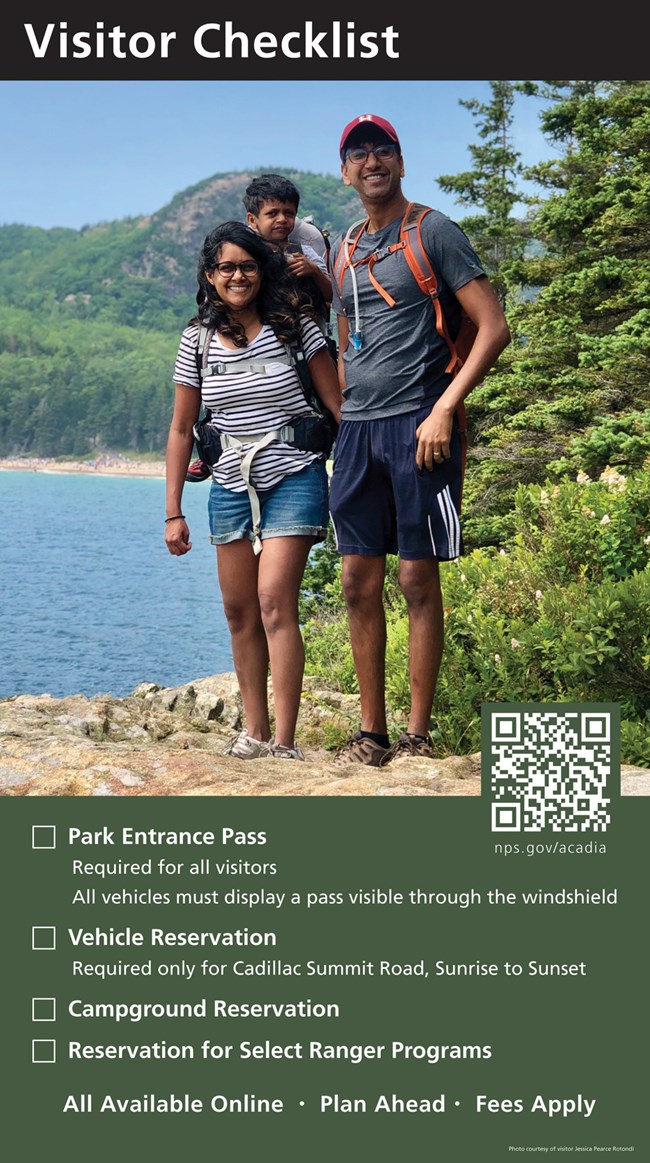 .
As you make plans to visit during the May to October 2021 season, expect to encounter a few changes –
Masks and social distancing are required in response to the COVID-19 pandemic.
The fare-free Island Explorer bus system resumes service with limited routes and reduced passenger capacity.
You will need to make an online vehicle reservation to drive and park on the Cadillac Summit Road during sunrise and daylight hours.
Visitor access to the historic Eagle Lake Carriage Road will be reduced in stages during a rehabilitation and preservation construction project.
Top 10 "Need to Know" Facts for 2021 Visitor Season
Visitors are required to wear face masks in federal buildings including visitor centers, historic structures, and museums. When outdoors, face masks are required on NPS-managed lands when physical distance cannot be maintained. Whether seeking wide-open spaces or exploring a historic neighborhood, visitors should follow CDC guidance to reduce the spread of COVID- and recreate responsibly. Travelers should be aware of current state guidelines regarding COVID-19 before arriving in Maine. Please check for updates at Maine's COVID-19 Response.
The fare-free Island Explorer is expected to resume service this summer, but with more limited routes, and much fewer riders allowed on each bus. Masks will be required on-board, as well as queuing areas.
Entrance Pass Required. From May through October, all visitors are required to have a park entrance pass. All vehicles must display a park entrance pass clearly visible through the windshield. Online sales are available anytime at Recreation.gov. Entrance passes are sold in-person at Hulls Cove Visitor Center, at an entrance station located one mile (1.6 km) north of Sand Beach, and at about a dozen other locations listed at go.nps.gov/AcadiaPass
A Vehicle Reservation is required to drive up the Cadillac Summit Road during sunrise and daylight hours for the 2021 summer season. Reservations are not required for other areas of the park and are not required for visitors who enter the areas by foot or bike. Vehicle reservations are purchased in advance online at Recreation.gov.

Hikers, bikers, and horseback riders will have reduced access to

Eagle Lake Carriage Road

this summer during a project to rehabilitate the carriage road while preserving its historic character. The entire loop is expected to close initially, and individual segments around the lake will then reopen as they become available. Watch for closure updates @

go.nps.gov/AcadiaAlerts
Only Class-1 e-Bikes are allowed on park Carriage Roads. These e-Bikes provide assistance only while the rider is pedaling, and at speeds less than 20 mph. Class 2 & 3 e-Bikes are prohibited. Please ride safely. Cyclists must yield to all other carriage road users, including horses and pedestrians. Stay to the right and give a clear warning before passing on the left.
No camping, campfires, or overnight parking are permitted outside of designated campgrounds. Please practice "Leave No Trace" principles.
Leave Your Firewood At Home. Non-native insect pests pose a serious threat to forests. Your home may lie in a quarantine area where moving firewood is illegal. Buy local.
While Acadia is known to be a Dog-Friendly National Park, all pets must always be kept on a leash no longer than six feet. Collect and dispose of dog waste properly in designated trash receptacles. Dogs are prohibited from six cliff ladder trails, public beaches (May 15-Oct 15), public buildings, and ranger-led programs.
Respect Wildlife. Please don't feed, approach, or provoke any wild animals in the park, especially snowy owls, nesting loons and turtles, and baby seals on beaches. Observe speed limits and watch for creatures crossing roadways
Last updated: March 4, 2021