Climbing Permits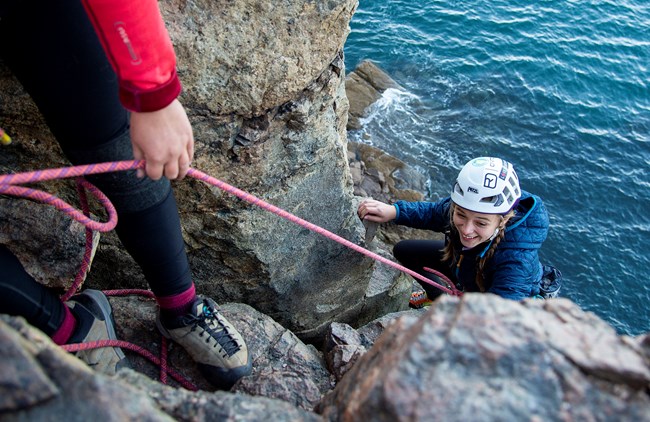 Permits are required for climbing Otter Cliffs, if:
you are climbing in a commercial or noncommercial organized group with 6 - 12 people.
you are climbing during the reservation season: the Friday before Memorial Day to Labor Day

Permits are not required if:
you are climbing in an area other than Otter Cliffs
your climbing group is unorganized (unaffiliated through business, school, church, club, etc)
your climbing group is 5 people or fewer.
you are climbing outside the reservation season

Two groups will be accomodated each day.
Group Size Limit
Groups must be 12 people or fewer, including any guides and instructors. The group size limit applies to all climbing groups using any park climbing areas at any time of the year. The purpose of this size limit is to reduce the effects of large groups on park resources and the climbing experience.

How to Get a Permit
Permits must be reserved before you arrive at Acadia.
Go to the Otter Cliffs Group Climbing page at www.recreation.gov.
Reservations are $6 per group
To protect your safety and Otter Cliffs, please take the time to review the Overview and Need to Know tabs in detail.
After completing your reservation purchase, you will recieve an email with a permit. Please print this permit and be prepared to present it to a park ranger.
Background
The 1997 Acadia National Park Climbing Management Plan recommended a reservation system for organized groups climbing at Otter Cliffs. The goal of the reservation system is to spread this group use out across the days of the summer to protect resources and provide a better experience for group and individual climbers.
Last updated: August 5, 2021