Blackwoods Campground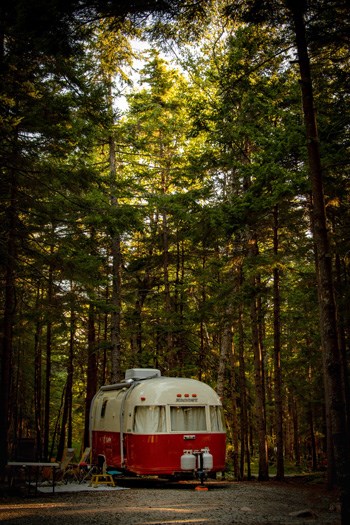 Blackwoods Campground
Blackwoods Campground is located on the east side of Mount Desert Island, about 5 miles (8 km) south of Bar Harbor on Route 3.
Season Dates: May 07, 2021 – October 17, 2021 (subject to change)

Camping Fees: (Only accepted on Recreation.gov, not at the campground)

$30 tent, camper, and motor home sites

$60 group tent sites
Note: Offseason and Winter Camping are no longer allowed at Blackwoods Campground. The front gates will remain closed until the campground reopens.

Regularly scheduled Island Explorer shuttle buses stop at campgrounds, carriage road entrances and many trailheads. Shuttle service is available from late June to mid-October.
Campground FAQs
I have not made a reservation yet. Are there any campsites available for tonight?
The campground is generally full or near capacity from mid-June through mid-October. The Blackwoods Campground ranger station cannot do reservations over the phone. Please do not contact the ranger station about site availability until after 12 pm. The ranger station is generally open from 8am to 8pm but hours are subject to change depending on staffing levels.
Are there any campsites available on ______ (a future date)?
We are unable to see campsite availability beyond two days. Please click on the reservations link above to check availability of a future date.
Can you tell me if sites are available at other campgrounds?
We do not keep track of the availability status of private campgrounds.
If I am bringing more than one vehicle into the campground, where do I park?
Only one vehicle is allowed to park at each campsite. Any other vehicles must park in the overflow parking lot located in A-Loop. When the overflow parking lot fills up, extra vehicles must park along ME 3 just outside of the campground.
We will be arriving late. Is there anything we need to do?
Arriving after hours? Your name and site number will be posted at the ranger station. Please check in at the ranger station before 10 am. If you are not arriving on the first day/night that your reservation begins, you must call (207) 288-3274 or forfeit reservation.
Last updated: March 28, 2021