Movies
Transcript
Acadia Teach Fellowship Transcript
Produced by Emma Forthofer, Acadia Youth Technology Team 2017
Intro music
Kristen Fox: So within the first five minutes it was pretty obvious that we were going to be a very tightly connects  group. We immediately got along and got to know each other. I would say all of us are passionate about children, about what we do and even though we are all different and from different areas and teach different things and different ages we appreciate each other and we learn a lot from each other
David Burks: It's been very powerful for the last six weeks to work on something that we are very passionate about. For the teachers that come to this program to work together and develop programs that they can export to the classroom but more importantly to bring the students to this classroom, in the forest in Acadia National Park and just to learn about all the resources that are there it's just amazing how much there is here. And I really believe that's the real purpose of it, is just to keep the steawardship growing.
Hannah Podurgiel: I think the purpose of the teacher fellowship program is to number 1: expose teachers, to what our national parks have to offer, we're here in Acadia and so seeing what this place has to offer but in a broader sense we're learning about the whole park system and what that can offer to students as a resource. And then we get to take that back into our classrooms and hopefully share the joy that we have experienced here with our students back in our classrooms. And hopefully inspire them to be excited about coming into the parks and excited about nature and taking care of not just national parks but where there from. So we're kinda the bridge between these natural places and so many students and we do have the power as teachers to interact with so many people who are going to be the future of those taking care of the earth
Kristen Fox: So I think my children are going to notice a very excited teacher and they are going to get a big kick out of the fact that I wore this shirt and I had this hat. Just that alone is going to be very exciting for them.
Stacie Pepperd: So going into this program I wasn't really sure how it was going to play out, however this has exceeded any expectation I had because we got to do it all, we got to meet people, we got to meet the researchers, we got to be in nature almost every single day while doing really neat things that we know can help the park.
Hannah Podurgiel: A typical day is so much fun. We get together as a group in the morning, go over what we are going to be doing for the day, and then head out on an adventure. It's been amazing. We have been out in the field with research scientists, or going on ranger programs, or just going out into the field and learning ourselves, going and experiencing nature on a hike.  So every day looks a little bit different we have also been doing quite a bit of the curriculum development that is going to be used by the park. So every day is pretty different actually.
Stacie Pepperd: We got to work with the scientists. Being able to get some of those ideas on how we can, not just work with the scientists being here in park, but what I can do in the classroom to be able to either use their research or even help with their research.  That was the most exciting part for me. I hope to be able to take just all of my experiences and enrich what I do in my regular lessons. And then I hope to work with the researchers by having some specific things that we are doing in Rhode Island to work with what's happening here.
Victoria Scarpa: Ranger Kate Petrie was a great leader, amazing how she orchestrated all of our experiences and I appreciated her not just telling us what we were going to learn at a spot- she allowed it to happen organically.
Kristen Fox: This program has been valuable in many, many way but on point I'd like to highlight is how there are multiple point of entry just like when you teach a child something, you have children of all different abilities that's the way this experience has been. With every single ranger that we have spoken with it has been very accessible.
Victoria Scarpa: I actually pushed out of my own comfort zone. I had never been walking in a bog or a pond area, I had never collected insect larva. So just stretching my own comfort zone was a great experience as an ATF. As an out of state teacher I found many more connections than I thought that there would be. This whole six week program was reinvigorating, I can't wait to get back to the classroom. I feel reenergized and refreshed.
Hannah Podurgiel: If I were to tell other teachers about this program I would tell them that number 1: it's so fun, you have to do it. To be willing to open yourself up to experiencing everything that this place has to offer, and be flexible. And like I said be willing to go out and do research one day go on a ranger program the next day, do curriculum work the next. That flexibility is really important and if just let yourself do that it's the most amazing experience- it's so much fun.
David Burks: I have found there is a treasure trove of things on this island it's unbelievable. I love my kids so much and when I see things I think of a student. I go "wow!" I want to bring them here. I went to show 'em this. So that's the connection I have. But that's the teacher heart that comes out. That's what I have experienced in this group. We love our kids so much that we want to absorb as much as we can, so that we can share it with them and especially bring them here so they can really see it, smell it, touch it, you know, and hear it. So that's the power of Acadia.
Friends of Acadia Credits-
Kristen Fox: I'd like to thank Friends of Acadia for funding this experience and for being so supportive
David Burks: They are phenomenal, what they do to fundraise and also use their resources wisely. And I really believe the teacher fellowship is a very vital part of that whole program. To go out and spread more information and hopefully grow future stewards.
Visit our keyboard shortcuts docs for details
Duration:

7 minutes
The Acadia Teacher Fellows program, generously funded by Friends of Acadia and Dawnland LLC, encourages full-time, K-12 public classroom school teachers to spend six weeks learning about diverse natural and cultural resources, and ways to protect them. (Video produced by Emma Forthofer, with Matthew Lambert and Will Greene, Acadia Youth Technology Team 2017)
See the park through the lens of the Acadia Youth Technology Team's cameras.

Duration:

14 minutes, 32 seconds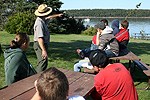 Schoodic Education Adventure
Video: Quicktime
Duration: 4 minutes 38 seconds
Discover what it's like at SEA - the Schoodic Education Adventure! Join teachers and students during their visit to the park's residential education program.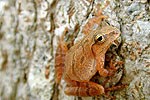 Spring Peepers
Audio: MP3
The sounds of spring peepers near Jordan Pond usher in spring at Acadia National Park. Audio recorded by NPS/Todd M. Edgar.

Winter Wren Song
MP3 Audio
Recorded at the Schoodic Peninsula in July, the winter wren projects its unique song. Audio by NPS/Karen Lanier.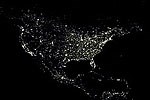 Acadia's Night Sky
Audiocast: MP3
Duration: 4 minutes 23 seconds
Visiting Park Scientist Chad Moore stands atop Cadillac to survey the other half of the park - the night. Night sky images from Acadia and other parks can be found at the National Park Service Natural Lightscapes website.

Last updated: January 31, 2019