Memorials & Monuments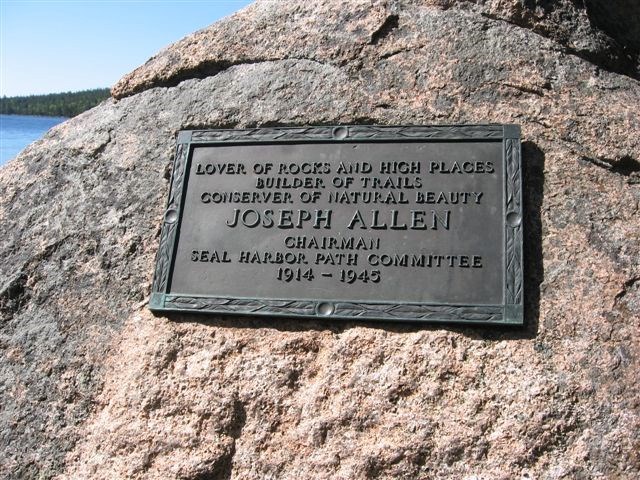 Seeking out these memorials will take you on a journey to little known corners of the island—and to places you might have passed many times without a second thought as to the story behind the plaque or stone or sign.
- Donald P. Lenahan, author of The Memorials of Acadia National Park
What Makes a Memorial
Acadia National Park is comprised almost entirely of once privately owned land that has been donated to the public. Beginning in the early 1900s, many different people and organizations contributed land or funded trail projects, sometimes in memory of a particular person. Preservation of this area was a meaningful and important part of life for many residents. The park today contains a wealth of memorials that give us information into its history, establishment, and management. Like the park's formations present natural history, these more recent signs do the same for some of our cultural history.

Although most memorials are found within Acadia, some are along historic trails in the surrounding communities. Many of these trails existed prior to the creation of the park and are part of a network that extends all across Mount Desert Island—connecting people to the natural wonders found inside and outside the park.

In addition to the physical memorials, others donated money and/or land for the establishment of the park. Some have trails and mountains named in their honor, others do not. Memorials were just one method of showing appreciation and gratitude for contributions made to Acadia, but currently no additional memorials are allowed.

Suggested reading for additional information includes The Memorials of Acadia National Park by Donald P. Lenahan or Mount Desert Island Historical Society's comprehensive list of memorials found within and outside the park.
Explore Memorials
Explore a selection of memorial plaques found along trails, parking areas, and overlooks, and read about what legacy was left behind. Memorial paths at Sieur de Monts are also included.

This list is not exhaustive, but does include people spanning centuries and their contributions to the park. Please be respectful of the memorials and surrounding environments, as some are experiencing wear or resource impacts. The locations below are all safe to access.
Last updated: October 30, 2020