Field Trips
Shoreline Discovery (3rd Grade)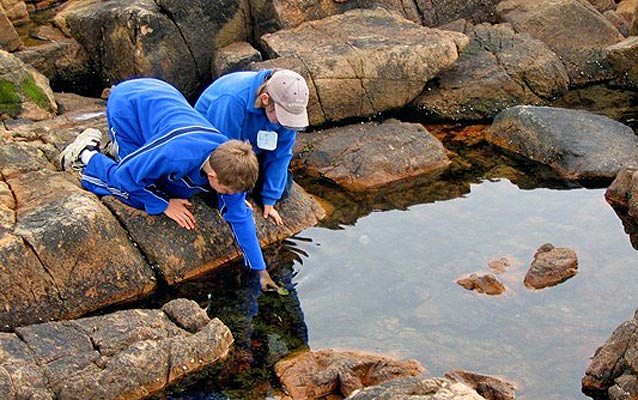 Description
Acadia National Park protects around 60 miles of shoreline. There are many different types of shorelines including sand beaches, mudflats, pebbly or cobblestone shores, and big rocky coastlines. On this trip we'll be exploring a sheltered part of Acadia's shoreline called Otter Cove. Students discover who lives in the cove and how everyone and everything is connected in this shoreline habitat. Many animals call the shoreline home, but there are lots of challenges or stresses they must overcome to survive here. Fun visual metaphors help students understand the challenges in this ecosystem and the many adaptations that are a result.
Tides, sediments, animal and algae characteristics, and life cycle stages are observed and explained during hands-on group explorations. Tips for shoreline safety and etiquette are demonstrated and safe collection protocols are practiced. Students learn skills to safely explore the intertidal zone with the least impact to the environment.
We are looking forward to your visit to Acadia National Park, which will provide your students with a special opportunity to learn about survival and relationships along Acadia's shoreline. If you would like an email version of this trip planner, contact us. 

Please meet your ranger at 9:00 AM at the location agreed upon in your trip planner. The program concludes at 12:00. Plan a bathroom break just before departing. If you have any questions about the program in advance, please call the education office at 288-8823, and/or 288-8825 on the day of the program. If you will be more than 15 minutes late, please call the Visitor Center at 288-8832 so that they can contact the ranger by radio.

Program Schedule (timing and sequence may vary)
9:00 Welcome, Logistics, Bathroom Break
9:20 Introduction, Challenge and Adaptation Metaphors
9:40 Hike to tide pools
10:00 Activity Rotation –  Snack Break, Intro to tide pools, Shoreline Exploration, Adaptation Hunt, Animal Investigations, Life Cycle Line-Up
11:30 Conclusion, Hike back to bathrooms
12:00 Departure


Plan to Bring
Chaperones: Plan early! Acadia requires a chaperone for every ten students. Extra chaperones are welcome.
Food:  No food or drink is available at the field trip site. Each student needs to bring a snack and a re-sealable drink. Although a lunch break will not be included in the program, you are welcome to plan to eat bag lunches afterward at the Fabbri Picnic Area before heading back to school.
Clothing: Wear layered outdoor clothing to accommodate changing weather conditions. Supportive shoes are essential—no sandals or flip-flops. Students will not be wading in the water, but should wear shoes that may get wet and muddy.
Nametags: Students and adults need name tags.  A piece of masking tape with name in marker is sufficient.
Signed photo release forms: Please send photo releases home with students for parent signatures.
Teachers' Responsibilities
Adherence to school procedures such as permission slips, insurance, transportation, etc.
Recruit chaperones and inform them of their responsibilities. Please photocopy and distribute the chaperone handout.
Prepare students to follow Leave No Trace practices:

Stay on trails if possible.
Respect, listen, and use quiet voices.
Leave natural objects. Take trash with you. (You may want to bring a trash bag.)

Supervise students and help them stay focused while on the program.
Notify trip participants about the recommendation to check for ticks after visiting the park. Tick numbers here have risen in recent years. Here is a link to Maine Tick/Lyme Disease Information for your reference.
Program Goals:
To increase students' knowledge about environmental impacts to organisms, including challenges and adaptations for survival in their shoreline habitat.
To assist students in understanding the interdependent relationships in ecosystems.
To aid students' understanding of commonalities and differences among life cycles.
To foster a sense of respect and stewardship for Acadia's shoreline and appreciation for the park's role in preserving it.
Program Objectives:
Students will be able to:
Describe three challenges that shoreline organisms face and explain how environmental changes affect organisms.
Describe three ways organisms along the shoreline are adapted to challenges.
Describe how different organisms have unique and diverse life cycles, but all have certain stages in common.
Explain two interdependent relationships or connections witnessed during shoreline exploration (food web, habitat connection, etc.).
List three aspects of proper shoreline safety and etiquette.
Explain why it's important for Acadia National Park to protect shorelines.
Learning Standards:
From the Next Generation Science Standards:
Interdependent Relationships in Ecosystems
3-LS4-3. Construct an argument with evidence that in a particular habitat some organisms can survive well, some survive less well, and some cannot survive at all.
3-LS4-4. Make a claim about the merit of a solution to a problem caused when the environment changes and the types of plants and animals that live there may change.
Inheritance and Variation of Traits: Life Cycles and Traits
3-LS1-1. Develop models to describe that organisms have unique and diverse life cycles but all have in common birth, growth, reproduction, and death.
Classroom activities:  
Suggested pre-trip activities:
Suggested post-trip activities:
Shoreline Crossword Puzzle
Intertidal Adaptation Match
Find your Plankton –  adapted from The Seaside Naturalist


Online resources:
Acadia's Teacher Resources: www.nps.gov/acad/forteachers

WebRangers: www.nps.gov/webrangers

Map of Acadia: www.nps.gov/acad/planyourvisit/maps.htm
Details
Subject:

Biology: Animals, Biology: Plants, Conservation, Ecology, Marine Biology

National/State Standards:

3-LS1-1. Develop models to describe that organisms have unique and diverse life cycles but all have in common birth,growth, reproduction, and death.

Cross Cutting Concepts: Patterns

Science and Engineering Practices:
Developing and Using Models

Keywords:

marine biology, adaptations, Maine coast, resource protection, Acadia National Park

type:

Field Trips