Read more about the effects of 2019 storms on national parks below. Information about current severe weather and 2018 and 2017 storms is also available.
Tropical Storm Karen
September 2019
Tropical Storm Karen passed over Puerto Rico and the Virgin Islands on September 24. No major damage was reported by national parks in the Caribbean.
Tropical Storm Imelda
September 2019
Imelda delivered heavy rains and flooding to southeast Texas September 18-20. Big Thicket National Preserve closed briefly and has reopened.
Tropical Storm Jerry
September 2019
Tropical Storm Jerry skirted north of national parks in the Caribbean on September 20, bringing rain to Puerto Rico and the US Virgin Islands. Virgin Islands National Park closed on September 20 as a precaution.

Hurricane/Tropical Storm Dorian
September 2019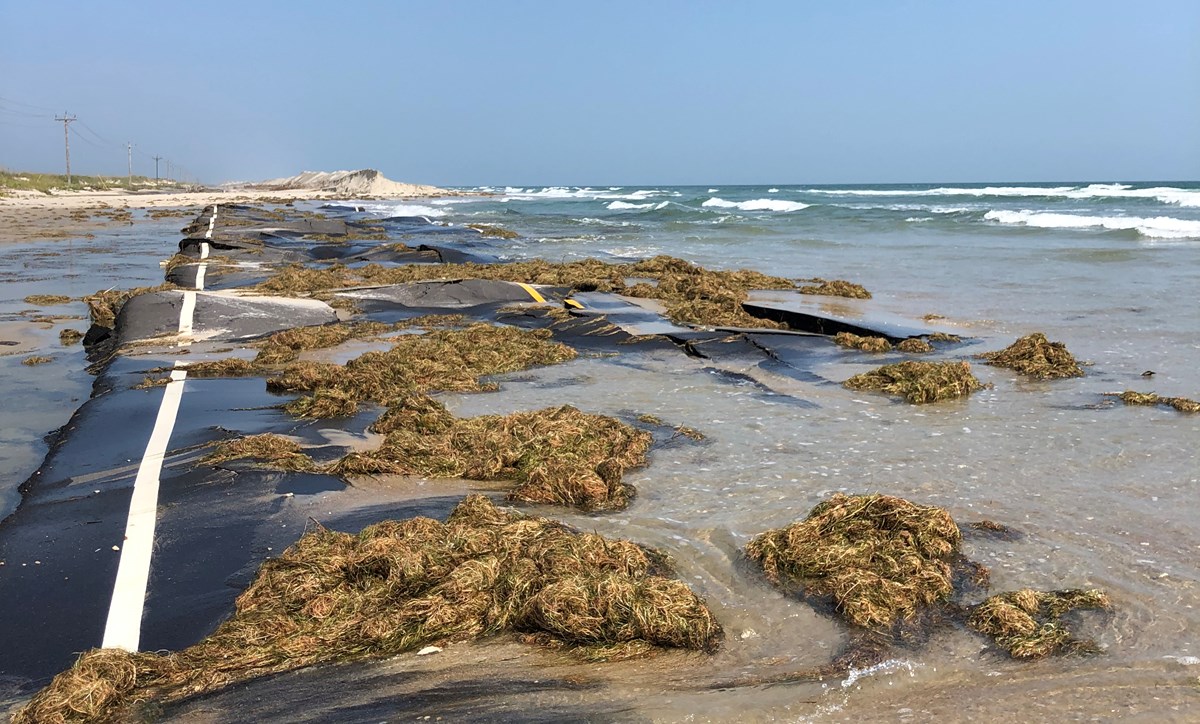 After sweeping along the southeast coast from Florida to South Carolina, Hurricane Dorian made landfall over Cape Hatteras on the morning of September 6. Dorian battered national parks in the Outer Banks with damaging winds, heavy rains, and severe flooding. Parks along the Atlantic coast impacted by the storm have been taking steps to recover and reopening as conditions allow.
For several weeks after the storm, the NPS Eastern Incident Management Team was mobilized to support parks with recovery operations. Images can be found on the team's Flickr page.
Hurricane/Tropical Storm Barry
July 2019
Tropical Storm Barry briefly became a hurricane on Saturday, July 13, before making landfall along the central Louisiana coast and weakening as it moved over Louisiana, Mississippi, and Arkansas. Barry delivered storm surge, heavy rains, and flooding. Parks impacted by the storm reopened as it was safe to do so. Check with parks in the area for current conditions and alerts.
Other Federal Resources and Information
The Federal Emergency Management Agency (Department of Homeland Security) (Español) is the lead agency for the federal response to severe weather emergencies.
USA.gov provides links to the latest available information on relief and response, including storm preparedness, helping survivors, and other resources. (GobiernoUSA.gov también provee información del gobierno en español.)
For information about tropical weather that may be affecting a park near you, please visit the National Hurricane Center of the National Oceanic and Atmospheric Administration. The NHC issues watches, warnings, forecasts, and analyses of tropical weather.
NPS Policy and Authorities
NPS emergency response efforts are directed by NPS Management Policies, which state, "The saving of human life will take precedence over all other management actions as the National Park Service strives to protect human life and provide for injury-free visits" (Section 8.2.5.1, Visitor Safety and Emergency Response). The NPS ability to respond to incidents is essential to the safety of all who enter NPS areas and is implemented in this policy.

The NPS also has authority to support emergency response outside of the parks. During times of emergency, the NPS may be asked to provide response to conduct search and rescue, firefighting, or public safety and security. The NPS can provide support for needs involving public works and engineering, public health and medical services, oil and hazardous spill response, and external affairs. In addition, the NPS is one of the support agencies to provide natural and cultural resources and historic preservation functions in the federal government under the National Response Framework.
Last updated: June 5, 2020