Accessibility for Visitors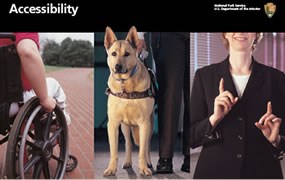 The National Park Service (NPS) is committed to making facilities, programs, services, and employment accessible for visitors and employees with disabilities through compliance with the Architectural Barriers Act of 1968, the Rehabilitation Act of 1973, and the Americans with Disabilities Act of 1990. The accessibility of commercial services within national parks is also covered under all applicable federal, state, and local laws.
The NPS works to ensure that people with disabilities can participate in the same programs, activities, and employment opportunities available to those without disabilities in the most integrated setting possible. Alternative means of accessing facilities, programs, or services are provided only when an accessible direct experience cannot be provided. Accessibility solutions are developed in consultation with the disability community.
Accessibility Strategic Plan
In May 2012 the National Park Service formed the Accessibility Task Force to improve our organizational approach to ensuring that national parks can be enjoyed by individuals with disabilities. The task force developed a five-year strategic plan for improving accessibility from fiscal year 2015 to 2020. All In! Accessibility in the National Park Service, 2015–2020, is built around three ambitious goals:
Create a welcoming environment for visitors with disabilities

Ensure that new facilities and programs are accessible

Upgrade existing facilities to improve accessibility
Download All In! Accessibility in the National Park Service, 2015–2020 (1.25MB PDF)
Many national parks provide information about accessible experiences that are available. Visitors can locate this information under "Plan Your Visit" on the park's website (find a park).
Filing a Complaint
If an individual with a disability or his or her representative believes that the NPS has not complied with any of the above-named accessibility laws, he or she can file a disability rights complaint as explained on this website. Complaints may be filed by sending a letter to the National Park Service Equal Opportunity Program Office. Technical guidance for filing a complaint is available in a variety of formats:
Last updated: November 21, 2016