Abraham Lincoln Birthplace National Historical Park to Host Preview Screening at State Theater in Elizabethtown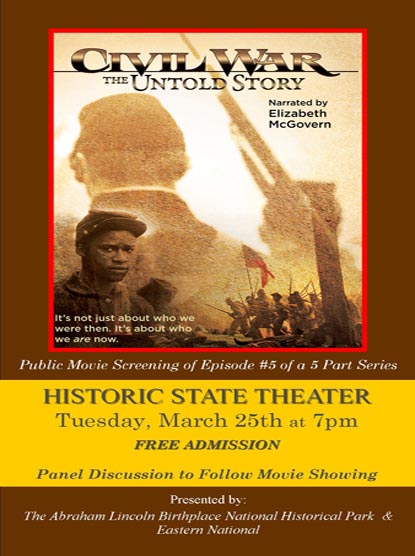 News Release Date:
March 16, 2014
Contact: Stacy Humphreys, 270-358-3137
Abraham Lincoln Birthplace National Historical Park and Eastern National will present a sneak-preview screening event for Civil War: The Untold Story, a visually stunning new five-part documentary series narrated by Elizabeth McGovern (Downton Abbey) and produced for public television by Great Divide Pictures. The event will take place on Tuesday, March 25, 2014, at 7:00 p.m. Eastern Time at the Historic State Theater in Elizabethtown. The event is free and open to the public.
Showing will be Episode 5, With Malice Toward None, which will be introduced by filmmaker Chris Wheeler. Against the dramatic backdrop of the Battles for Atlanta, this hour chronicles the presidential election of 1864 - one that Lincoln himself was resigned to defeat. Hanging in the balance with the crucial election was the Emancipation Proclamation and the destiny of more than 3 million Americans who were still enslaved.
Following the film, there will be a panel discussion led by Dr. John George, Park Guide at the Abraham Lincoln Birthplace. The panel will include filmmaker/director of the documentary, Chris Wheeler as well as Dr. Amy Murrell Taylor, Associate Professor with the University of Kentucky. Dr. Taylor served as historical consultant for Civil War: the Untold Story. The panel discussion will be "Lincoln, Kentucky, and the 1864 Election." The panel will also invite questions from the audience.
"We are excited to host this event," stated park Superintendent Bill Justice. "Everyone is welcome to attend. We are pleased to be able to share a portion of this documentary before it officially airs on PBS stations across the country in April."
For more information about the event or the Abraham Lincoln Birthplace National Historical Park, visit the park's website at: https://www.nps.gov/abli or the park's Facebook page at https://www.facebook.com/LincolnBirthplaceNPS.
Last updated: April 14, 2015