Driving Park Roads
There are only two roads that actually penetrate the park: The Nabesna Road and the McCarthy Road. Both are gravel roads that are owned and maintained by the state of Alaska. The National Park Service does not maintain these roads. Both roads are usually passable to all vehicles during the summer months (high clearance is highly-recommended). Conditions can change quickly here, so it is always a good idea to stop by a park visitor center to check on current road conditions. You can also check with the Alaska Road Traveler Information Service for the latest conditions.
Driving a Rental?
Most major car rental companies in Anchorage do not let renters drive vehicles on gravel roads. Several of the discount and independent rental companies do, but may have added expenses or requirements for such a rental. You may want to contact the following companies about renting a vehicle that you can drive on a gravel road.
Levi Car Rental 907-563-2279
High Country Car Rental 1-888-685-1155
A-1 Car Rental 907-929-1222
Payless Car Rental 1-800-729-5377
Advantage Car and Van Rental 907-243-8806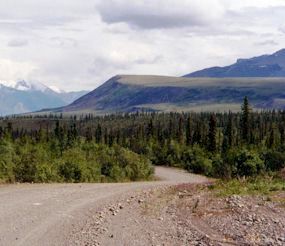 The Nabesna Raod: The Road Less Traveled
This 42-mile Nabesna Road traverses the headwaters country of the Copper and Tanana drainages. It is a dusty, gravel, dead end road that is short on services but big on wilderness! The Nabesna Road offers Wrangell-St. Elias National Park and Preserve visitors a unique opportunity to explore interior Alaska. The drive is an adventure in the midst of the Wrangell, Mentasta and Nutzotin Mountains. Camping, hiking, wildlife viewing, fishing and hunting are just a sampling of the activities available just off of the road.
The Nabesna Road was originally built in 1933 by the Alaska Road Commission to supply Nabesna Mine and to ship out its ore. Today, the Alaska Department of Transportation maintains the Nabesna Road and, generally, the road is passable by most two-wheel drive vehicles. However, higher clearance and/or four-wheel drive are occasionally needed beyond Mile 29 due to stream crossings. Wet conditions such as spring run-off and heavy rain can make these stream crossings impassable. The last four miles of the road are not maintained and may be deeply rutted and wet. Vehicle travel on this portion of the road is not recommended.
Backcountry access by off-road vehicles (ORVs) on established trails is allowed with a permit obtained from the Slana Ranger Station. Hikers may venture out on the trails but need to keep in mind that trails can be very muddy. Better hiking is available on the trails and routes that lead into the Mentasta Mountains north of the road or past mile 36. Another option for backpackers is to contract a short flight into the high country with an air taxi. Ask at park headquarters or at the Slana Ranger Station for more information. Visitor services are very limited. Check with the Slana Ranger Station for current lodging available along the road. No gas or vehicle repair service is available. Please respect private property located in many places along the road. Check out the Hiking Routes located along the Nabesna Road!
Get the Nabesna Road Audio Tour!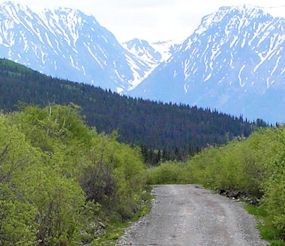 The McCarthy Road: Born On Rails

The 60-mile McCarthy road offers Wrangell-St. Elias National Park and Preserve visitors a unique opportunity to explore interior Alaska. Natural and historic wonders await those visitors willing to accept travel and access on Alaskan terms. This road follows the old Copper River and Northwestern Railroad route. Moose, bear, sheep, and bald eagles may be seen. Camping is available along the route. High-clearance two-wheel drive vehicles can usually make the trip in summer, but always check on current conditions before heading out. You can inquire about road conditions at the Chitina Ranger Station.
Driving this road is an Alaskan adventure! Although regularly maintained by the State of Alaska, the gravel surface makes for slow travel. It will take about 3 hours each way to drive this road. Other hazards can make it even longer: there are curves with limited visibility; heavy rain can make the road muddy and slippery; sharp rocks can cause flat tires; narrow and one-lane bridges make maneuvering large vehicles difficult. In fact, large vehicles are not encouraged to drive this road. Under normal summer conditions, most two-wheel drive vehicles can make the trip without difficulty, but be sure to carry at least one spare tire and an adequate jack. If you don't want to take your own vehicle on the road, you can take a shuttle or fly there. There is NO GAS along the McCarthy Road. At this time, the last place to obtain fuel is in Kenny Lake, AK.
At the end of the road, you will find parking areas and two foot bridges that cross the Kennicott River and lead to McCarthy and Kennecott. Access to McCarthy is by foot, bike, or shuttle. From McCarthy, it's a five mile hike to the Kennecott historic mine area. For those who would rather not walk, there are shuttle rides available during the summer months.The McCarthy road provides access to interesting geology, great hiking, fishing, and camping, as well as the wonderful historic communities of McCarthy and Kennecott.
Once you get to Kennecott, stop by the Kennecott Visitor Center for park information. Check out the Hiking Routes that you can take from Kennecott and McCarthy.