Wrangell-St. Elias Visitor Center to close for the winter on Nov. 1st.

Wrangell-St. Elias's main visitor center, located near Copper Center, AK, will be closed for the winter starting November 1. The visitor center will re-open on April 1, 2015.
Wrangell-St Elias Visitor Center

Wrangell-St. Elias Visitor Center
Mile 106.8 Richardson Highway
Copper Center, AK
(907) 822-7250
Exhibits, park film, nature trails, ranger programs, bookstore, park & area information, backcountry trip planning, subsistence permits.
Summer
May 18 - September 19, 2014: Open Daily 9:00am - 6:00pm
Winter
September 20 - October 31: Open Monday-Friday 9:00am - 4:00pm, as staffing permits. Closed on federal holidays.
November 1 - March 31: Closed. If you need assistance, please call park headquarters at (907) 822-5234.
April 1 - Mid May: Open Monday-Friday 9:00am - 4:00pm, as staffing permits. Closed on federal holidays.
Please call us for exact dates that we switch hours, as each season the dates can fluctuate. Please note that the visitor center gate is locked at closing time. No overnight parking is permitted.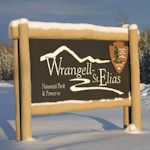 The Headquarters and Visitor Center provides information about the entire park in addition to the administration and management facilities. This beautiful, brand new facility is located along the Richardson Highway at mile 106 (between Glennallen and Copper Center). View the park movie in the new theater, enjoy the exhibits, stroll the short nature trail to a spectacular view of the Wrangell Mountains, check out the bookstore, meet a park ranger, and get oriented with the large 3-D interactive map display. Park rangers provide guided talks and walks daily during the summer months. Subsistence fishing and hunt permits are also available.
Services available in nearby Copper Center include a post office, lodging, gas station, food store, tire repair, and telephone.

Did You Know?

The Gates Glacier, which feeds into the Kennicott Glacier near Donoho Peak, was named in 1899 for Edward Gates, a local prospector.