Park to Burn Piles of Debris to Reduce Fire Risk

Wrangell St Elias National Park and Preserve wildland fire staff will burn piles of debris consisting of trees and brush beginning April 23 through May 3. More More »
Wrangell-St Elias Visitor Center

Wrangell-St. Elias Visitor Center
Mile 106.8 Richardson Highway
Copper Center, AK
(907) 822-7250
Summer (May 25 - September 21, 2013):
Open Daily
9:00am - 6:00pm
Winter
Open Monday-Friday, as staffing permits.
9:00am - 4:00pm
Closed on federal holidays.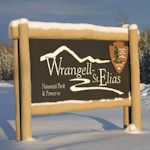 The Headquarters and Visitor Center provides information about the entire park in addition to the administration and management facilities. This beautiful, brand new facility is located along the Richardson Highway at mile 106 (between Glennallen and Copper Center). View the park movie in the new theater, enjoy the exhibits, stroll the short nature trail to a spectacular view of the Wrangell Mountains, check out the bookstore, meet a park ranger, and get oriented with the large 3-D interactive map display. Park rangers provide guided talks and walks daily during the summer months. Subsistence fishing and hunt permits are also available.
The Visitor Center is open year round Monday-Friday 9:00am to 4:00pm, as staffing permits. During the summer season (Memorial day to Labor Day) the Visitor Center is open seven days a week from 9:00am to 6:00pm. During the winter, the Visitor Center is closed on federal holidays.
Services available in nearby Copper Center include a post office, lodging, gas station, food store, tire repair, and telephone.

Did You Know?

Arctic Ground Squirrels have the most unusual hibernation among mammals. During winter hibernation their body temperature plummets to negative 3 degrees Celsius and then every two to three weeks they shiver to warm themselves back up to normal mammalian temperature (37 degrees Celsius).