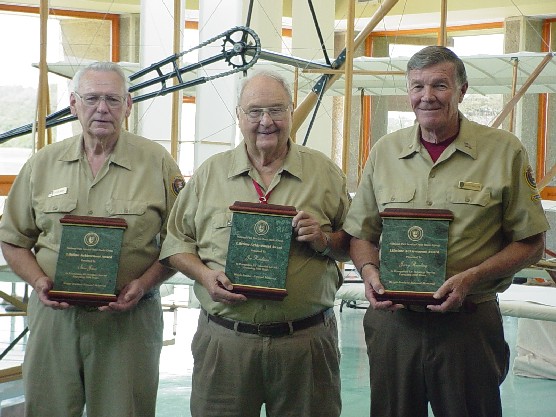 NPS
Then you should become a National Park Service VIP (Volunteer-In-Parks) at Wright Brothers National Memorial. Below are just a few descriptions of our volunteer opportunities. For further information or to become one of our very valuable volunteers, call Volunteer Coordinator Nicole Loiseau at 252-475-9042.
Volunteer Opportunities
Operate information desk: Greet visitors and staff the information desk in the Wright Brothers National Memorial Visitor Center and First Flight Pavilion. Provide visitors directions and information about park facilities, programs, exhibits, and events. Answer visitor questions about the park. Answer the telephone and respond to the caller's request or direct the call appropriately. Distribute brochures and park papers and ensure adequate quantities of brochures and similar materials are available and accessible to the visitors. Announce events and activities of the day and operate audio visual equipment (TV/VCR and P.A. system, video projection system).
Provide informal roving contacts: Interact with park visitors, answering questions and conducting impromptu talks while roving in the vicinity of specific exhibits and historical areas. These areas can include camp area, first flight area, Kill Devil Hill and the monument and locations in the vicinity of the visitor center and pavilion.
Conduct administrative duties: Perform administrative tasks such as filing, stuffing envelopes, Xeroxing, reviewing text, and maintaining records, answering correspondence, maintain school and tour group reservations.
Don't see something that interests you or have a project in mind, let us know. Call Volunteer Coordinator Nicole Loiseau at 252-475-9042.