Frequently Asked Questions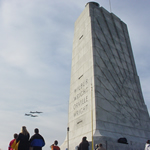 Aircraft: parking is limited to no more than 24 consecutive hours or not to exceed 48 hours during any 30 day period.
Unauthorized vehicles and pedestrians: are not permitted on the First Flight airstrip parking ramp or runway. Automobiles, motorcycles, bicycles, skates, or other vehicles are prohibited on the sidewalks and foot trails.
Bicycling: Use extreme caution. There are no established bike paths within the Memorial. A designated bike trail on Colington Road is available for cycling.
Wheeled devices: Wagons, snow or sand skis, sleds or other sliding devices use on the slopes of Kill Devil Hill is prohibited.
Radio controlled devices: Aircraft, cars and other devices are prohibited in the Park.
Rockets: Model CO2 rockets and similar devices are prohibited in the Park.
Pet Policy: Dogs, cats, or other pets are prohibited throughout the park unless crated, caged, on a six-foot leash, or otherwise under physical restraint. Pets running at large will be apprehended and returned to their owner, if known and located, or delivered to the local animal shelter for disposal in accordance with local procedures. Guide dogs for the visually impaired are permitted to remain with their owners at all times
For Personal Comfort: Insect repellant, sunscreen, hat and jacket are often needed to protect oneself from the elements
Weather: For current weather conditions check http://www.nws.noaa.gov/er/mhx.
Metal Detectors: 36 CFR 2.1(a)(7) prohibits use of metal detectors in all national parks.
Fireworks: 36 CFR 2.38(b) prohibits the use or possession of fireworks in all national parks.
Unless otherwise posted, the speed limit within the National Memorial is 25 mph.