White House Visitor Center Rehabilitation and Closure Information

The White House Visitor Center is closed for rehabilitation. A temporary visitor center is located near the Ellipse Visitor Pavilion, just west of the intersection of 15th and E streets, NW.
White House Fence Restoration and Sidewalk Closure

The National Park Service is restoring the White House fence along Pennsylvania Avenue, portions of which are believed to date back to 1818. During this restoration work, sections of the White House sidewalk will be temporarily closed for public safety. More »
Construction Project Affecting the White House Sidewalk

Due to a construction project, a portion of both the White House sidewalk and Pennsylvania Avenue near East Executive Avenue will be closed until April 2015.
Plan Your Visit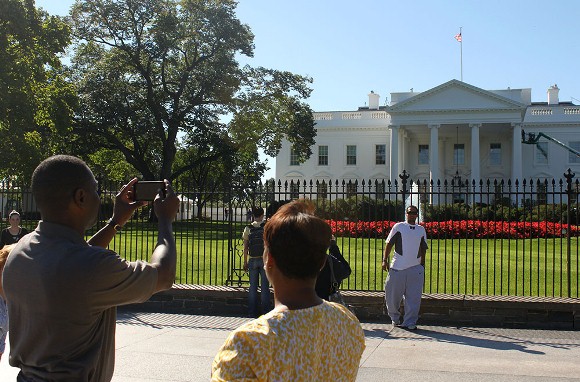 NPS COLLECTION
Located in the center of downtown Washington, DC, President's Park includes the park land and gardens surrounding the White House. Amid the vibrant city life of our nation's capital, President's Park offers visitors, district residents, and even the President of the United States restorative green space, awe-inspiring memorials, and the White House itself to contemplate as a symbol of the United States and democracy.
Whether you are a regular local or just visiting President's Park, there are numerous activities and special events in which to participate. If you are able, take a tour of the White House or take a moment to pause and have your picture taken in front of the White House. Stop by the White House Visitor Center for maps and brochures or take a stroll through the park to enjoy the atmosphere. You might catch a glimpse of one of the hawks that inhabit the White House grounds or see Marine One land on the White House lawn!
Many opportunities for unique experiences await you at President's Park. Located just a short walk away are the National Mall, Smithsonian museums, and other cultural attractions.The links below and at left will help you get started planning your trip to the White House and our nation's capital.


Did You Know?

In Ellicott's Mills, Maryland, President Andrew Jackson boards a Baltimore & Ohio Railroad train for a pleasure trip to Baltimore in 1833. Jackson, who had never been on a train before, was the first president to take a ride on the "Iron Horse," as locomotives were known then.