Maps
The National Park Service produces and hands out free of charge a map of downtown Washington, DC highlighting NPS sites, public transportation facilities, and area attractions. You may pick one up at NPS sites around town, or alternatively, download a pdf version (1.25 mb).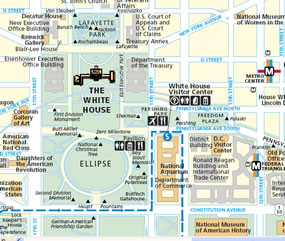 Please note that the White House Visitor Center, located at 1450 Pennsylvania Avenue, NW, has now reopened with a brand White House film and world class exhibits!


Did You Know?

On October 4, 1924, First Division Monument was the first memorial built in Washington, D.C., in honor of the valiant efforts of the soldiers who fought in World War I. Later, the World War II, the Vietnam War, and the Desert Storm were added to the memorial.