White House Visitor Center Rehabilitation and Closure Information

The White House Visitor Center is closed for rehabilitation. A temporary visitor center is located near the Ellipse Visitor Pavilion, just west of the intersection of 15th and E streets, NW.
White House Fence Restoration and Sidewalk Closure

The National Park Service is restoring the White House fence along Pennsylvania Avenue, portions of which are believed to date back to 1818. During this restoration work, sections of the White House sidewalk will be temporarily closed for public safety. More »
Construction Project Affecting the White House Sidewalk

Due to a construction project, a portion of both the White House sidewalk and Pennsylvania Avenue near East Executive Avenue will be closed until April 2015.
Maps
The National Park Service produces and hands out free of charge a map of downtown Washington, DC highlighting NPS sites, public transportation facilities, and area attractions. You may pick one up at NPS sites around town, or alternatively, download a pdf version (1.25 mb).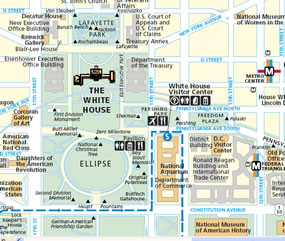 Please note that the White House Visitor Center, located at 1450 Pennsylvania Avenue, NW, is closed for a 15-month rehabilitation project. A temporary visitor center is open near the corner of 15th and E Streets, NW, next to the Ellipse Visitor Pavilion.


Did You Know?

In 1878 Rutherford B. Hayes held the first Easter egg roll on the White House lawn. It was held at the U.S. Capitol, but the children apparently caused such a ruckus on the grounds that Congress passed the Turf Protection Law to prohibit the area from being used as a playground in future years.