White House Visitor Center Rehabilitation and Closure Information

The White House Visitor Center is closed for rehabilitation. A temporary visitor center is located near the Ellipse Visitor Pavilion, just west of the intersection of 15th and E streets, NW.
Maps
The National Park Service produces and hands out free of charge a map of downtown Washington, DC highlighting NPS sites, public transportation facilities, and area attractions. You may pick one up at NPS sites around town, or alternatively, download a pdf version (1.25 mb).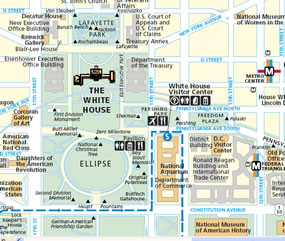 Please note that the White House Visitor Center, located at 1450 Pennsylvania Avenue, NW, is closed for a 15-month rehabilitation project. A temporary visitor center is open near the corner of 15th and E Streets, NW, next to the Ellipse Visitor Pavilion.


Did You Know?

On June 2, 1886 Grover Cleveland became the first president to ever be married in the Blue Room in the White House. His bride was Frances Folsom, daughter of a former law partner. John Philip Sousa and the U.S. Marine Band played at the ceremony.