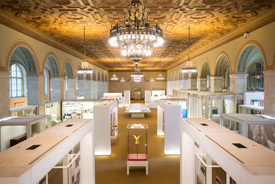 White House Historical Association
Explore the White House Visitor Center
Located at 1450 Pennsylvania Ave NW. Open daily 7:30 a.m. - 4 p.m. except January 1, Thanksgiving, and December 25. Admission is free.
Visitors can view, listen, and interact with a number of exhibits in seven different areas of the Great Hall. The centerpiece of the introductory gallery is a large White House model with an interactive touchscreen allowing visitors to explore the White House's architectural changes over time, milestones, and other White House activities throughout its history. Other exhibit areas include approximately 100 historical artifacts, history and geography of President's Park, and the White House's role as a stage, home, office, and museum. The new film, The White House: Reflections From Within, offers a reflection of White House experiences from the point of view of Presidents, First Ladies, and First Family members. The film is opened-captioned for those who are hearing impaired or deaf. Visitors are welcome to stop by the information desk for information about special ranger programs, or to pick up free maps and brochures. Visit the White House Visitor Center.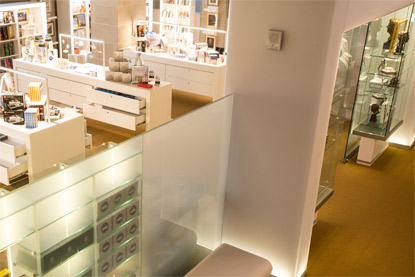 White House Historical Association
White House Historical Association Retail Store
The new White House Historical Association's new retail store features beautiful gifts, publications, collectibles, and many other items inspired by the White House. The treasured White House Annual Christmas Ornament is also available. All products sold reflect and support the associations educational mission to enhance the understanding, appreciation, and enjoyment of the executive Mansion. Proceeds from the store contribute to the Association's mission including support of the White House Visitor Center.
The White House Historical Association's $7.5 million contribution to the National Park Service's $12.6 million White House Visitor Center rehabilitation demonstrates what is possible through a modern public-private partnership. Partnerships like this are critical as the NPS as we approach its centennial in 2016. Through partnerships, the NPS is able to expand its programing,benefits, and relevancy to this and future generations of Americans.
Attend a Ranger Program
Immerse yourself in the national park the President of the United States calls home. Hear stories of the presidents and first families who have called the White House home, and learn of the different memorials and special places that make up President's Park.
Ranger programs are usually offered Tuesdays through Saturdays. These programs typically start at the White House Visitor Center Information Desk and are free of charge. We welcome groups of all sizes, but request that groups larger than 25 make arrangements in advance. For a full listing of programs, you can
visit our online schedule of events
, or
download the schedule (PDF format).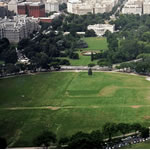 President's Park South
• Stroll through the park.
• Walk a lap or two around the Ellipse sidewalk. (one lap = 0.6 mile)
• Learn about the Ellipse, First Division Monument, General William T. Sherman Monument, Butt-Millet Fountain, Haupt Fountains, District Patentees Memorial, Boy Scout Memorial, Zero Milestone, Second Division Memorial, Bullfinch Gatehouses, and National Christmas Tree
• Find the "BIG RED ONE" flower bed during the spring and summer seasons.
• Participate in annual special events such as the Easter Egg Roll, White House Fall and Spring Garden Tours, or Christmas Pageant of Peace; stop by the Ellipse Visitor Pavilion or the White House Visitor Center for the most current schedule.
• Observe park wildlife such as gray squirrels, migratory birds, and an occasional sighting of a red-tailed hawk, or bald eagle. For your safety, please do not feed the squirrels. They will bite.
• Take photographs of the White House, Washington Monument and Jefferson Memorial and the surrounding monuments and buildings.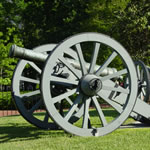 Lafayette Park
• Stroll through the park.
• View the manicured grounds and gardens.
• Learn about the history of five statues in Lafayette Park. In the center stands an equestrian statue of President Andrew Jackson, and in the four corners are statues of Revolutionary War heroes: France's General Marquis Gilbert de Lafayette and Major General Comte Jean de Rochambeau; Poland's General Thaddeus Kosciuszko; and Prussia's Major General Baron Frederich Wilhelm von Steuben.
• Take photographs of the White House, Lafayette Square and the surrounding buildings and monuments.