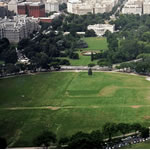 President's Park South
• Stroll through the park.
• Walk a lap or two around the Ellipse sidewalk. (one lap = 0.6 mile)
• Learn about the Ellipse, First Division Monument, General William T. Sherman Monument, Butt-Millet Fountain, Haupt Fountains, District Patentees Memorial, Boy Scout Memorial, Zero Milestone, Second Division Memorial, Bullfinch Gatehouses, and National Christmas Tree
• Find the "BIG RED ONE" flower bed during the spring and summer seasons.
• Participate in annual special events such as the Easter Egg Roll, White House Fall and Spring Garden Tours, or Christmas Pageant of Peace; stop by the Ellipse Visitor Pavilion or the White House Visitor Center for the most current schedule.
• Observe park wildlife such as gray squirrels, migratory birds, and an occasional sighting of a red-tailed hawk, or bald eagle. For your safety, please do not feed the squirrels. They will bite.
• Take photographs of the White House, Washington Monument and Jefferson Memorial and the surrounding monuments and buildings.