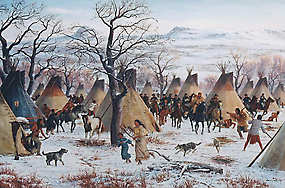 NPS Photo/Steven Lang
Congress established Washita Battlefield National Historic Site as a unit of the national park system on November 12, 1996.
This site recognizes the attack by Lt. Col. George Armstrong Custer and his 7th U. S. Cavalry on the Cheyenne encampment of Peace Chief Black Kettle as a nationally significant element of the United States Government Indian policy and the struggles of the Cheyenne to maintain control of their traditional homelands.
The history & culture of Washita Battlefield can be explored in this parks...
Explore plants traditionally used by the Cheyenne in the Washita Native Garden. Shaped as a medicine wheel, the Native Garden is separated into four portions: Daily Living, Medicinal, Edible, and Home. The medicine wheel symbolizes the sacred hoop in many Plains Indian cultures. Visitors to the garden will be educated on native plant species and their importance in the tribal communities.