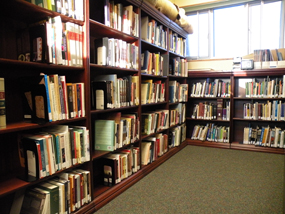 NPS photo
The 300 plus volume library built around the Battle of Washita and the Southern Plains Indians has books dealing with American Indian cultures, the U. S. Army, the flora and fauna of the Great Plains, the National Park Service and the U. S. Forest Service.
The library is for research purposes only. Please contact Joel Shockley at 580-497-2742 ext. 3009 for further information.
How can we help you?

Washita
Washita:The U.S. Army and the Southern Cheyennes, 1867-1869 by Jerome A. Greene
Battle of the Washita by Stan Hoig
Custer, Black Kettle, and the fight on the Washita (aka Conquest of the Southern Plains) by Charles J. Brill
Washita Memories by Richard G. Hardoff
My Life on the Plains by Lt. Col. George A. Custer
Sheridan's Troopers on the Border by De B. Randolph Keim
General Custer and the Battle of the Washita: The Federal View by John M. Carroll
Life in Custer's Cavalry by Albert Barnitz
Black Kettle, the Cheyenne Chief Who Sought Peace but Found War by Thom Hatch
A Hoosier Quaker Goes to War: The Life & Death of Major Joel H. Elliott, 7th Cavalry by Sandy Barnard
Coming Through the Fire by Duane Schultz
Campaigning with Custer and the Nineteenth Kansas Volunteer Cavalry on the Washita Campaign, 1868-69 by David L. Spot

Southern Plains War: (Listed Chronologically from 1857 to 1864)

Cheyennes and the Horse Soldiers by William Y. Chalfant
Month of the Freezing Moon by Duane Schultz
The Battle of Sand Creek by Gregory F. Michno
The Sand Creek Massacre by Stan Hoig
Circle of Fire by John D. McDermott
Dog Soldier Justice by Jeff Broome
Hancock's War by William Y. Chalfant
On the Plains with Custer and Hancock by W.J.D. Kennedy
A Dispatch for Custer: The Tragedy of Lieutenant Kidder by Randy Johnson and Nancy Allan
The Battle of Beecher Island and the Indian War of 1867-1869 by John Monnett
Hero of Beecher Island: The Life and Military Career of George A. Forsyth by David Dixon
Fort Supply, Indian Territory: Frontier Outposts on the Plains by Robert C. Carriker
Custer and the Cheyennes by Louis Kraft
The Buffalo War by James L. Haley
Cheyenne at Dark Water Creek by William Y. Chalfant
Battles of the Red River War by J. Brett Cruse
On the Border with Mackenzie by Robert G. Carter
The Moccasin Speaks: Living as Captives of the Dog Soldier Warriors by Arlene Feldmann Jauken
The Military Conquest of the Southern Plains by William H. Leckie
Cheyennes
Sweet Medicine, Volume One by Peter J. Powell
Sweet Medicine, Volume Two by Peter J. Powell
The Cheyenne Indians of the Great Plains by E. Adamson Hoebel
The Cheyenne Way: Conflict and Case Law in Primitive Jurisprudence by K.N. Llewellyn and E. Adomson Hoebel
The Cheyenne by Stan Hoig
The Cheyenne Indians: History and Society by George Bird Grinnell
The Cheyenne Indians: War, Ceremonies, and Religion by George Bird Grinnell
The Cheyenne by Dennis B. Fradin
The Fighting Cheyenne by George Bird Grinnell
The Cheyenne Indians by Liz Sonneborn
By Cheyenne Campfires by George Bird Grinnell
Cheyenne by Marla Felkins Ryan and Linda Schmittroth
The Southern Cheyennes by Donald J. Berthrong
The Peace Chiefs of the Cheyennes by Stan Hoig
Searching for Sacred Ground: The Journey of Chief Lawrence Hart, Mennonite by Raylene Hinz-Penner
Cheyenne-Arapaho Education 1871-1982 by Dr. Henrietta Mann
Cheyenne Memories by John Stands in Timber and Margot Liberty
William Wayne Red Hat Jr., Cheyenne Keeper of the Arrows by William Wayne Red Hat Jr.
The Cheyenne in Plains Indian Trade Relations 1795-1840 by Joseph Jablow
The Cheyenne by John H. Moore
The Cheyenne and Arapaho Ordeal by Donald J. Berthrong
Arapaho
Tribal Sovereignty and the Historical Imagination: Cheyenne-Arapaho Politics by Loretta Fowler
The Arapaho by Alfred L. Kroeber
The Arapahos, Our People by Virginia Cole Trenholm
The Trace of the Southern Arapaho by Bobby F. Steere
Tell Me, Grandmother: Traditions, Stories, and Culture of Arapaho People by Virginia Sutter
Chief Left Hand, Southern Arapaho by Margaret Coel
The Arapaho: Hunters of the Great Plains by Karen Bush Gibson
One Hundred Years of Old Man Sage: An Arapaho Life by Jeffrey D. Anderson
Friday, the Arapaho Boy by Marc Simmons
Other Recommendations
Indians of the Plains by Robert H. Lowie
The Indian Frontier 1846-1890 by Robert Utley
A History of the Indians of the United States by Angie Debo
The Indians in Oklahoma by Rennard Strickland Indian
Tribes of Oklahoma by Blue Clark
A Guide to the Indian Tribes of Oklahoma by Muriel H. Wright
Contrary Neighbors by David LaVere
Civil War in the Indian Territory by Steve Cottrell
American Indians and the Civil War by Robert K. Sutton and John A. Latschar
The Treaty of Medicine Lodge by Douglas C. Jones
Contested Plains by Elliott West
The Military and United States Indian Policy 1865-1903 by Robert Wooster
Violent Encounters by Deborah and Jon Lawrence
Encyclopedia of Indian Wars by Gregory F. Michno
The Plains War 1757-1900 by Charles M. Robinson III
Custer by Jeffry D. Wert
The Great Plains Guide to Custer by Jeff Barnes
Cavalier in Buckskins by Robert M. Utley
The Comanche Empire by Pekka Hamalainen
The Comanches: Lords of the South Plains by Ernest Wallace and E. Adamson Hoebel
Empire of the Summer Moon by S.C. Gwynne
The Kiowas by Mildred P. Mayhall
Telling Stories the Kiowa Way by Gus Palmer, Jr.
Satanta by Charles M. Robinson III
Bad Medicine and Good by W.S. Nye
Ned Wynkoop and the Lonely Road from Sand Creek by Louis Kraft
Frontier Regulars by Robert Utley
Phil Sheridan and His Army by Paul Hutton