Camping at Voyageurs National Park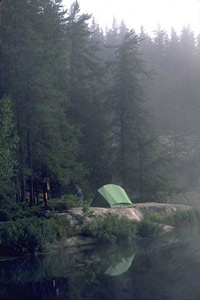 NPS
Sleep under the stars in one of over 220 designated campsites in Voyageurs National Park. Be serenaded by loons, and listen for the chance to hear the howl of a wolf.
Campsite Locations
All designated campsites in the park are accessible only by water. The
National Geographic Map of Voyageurs National Park
is the only map the shows all of the campsites (as of 2011) in the park. It can be purchased at the visitor centers or online from our cooperating association,
Jefferson National Parks Association.

You can also view all locations of campsites, houseboat sites, and day use sites (as of 2009) in Google Maps:
If you have free Google Earth software on your computer, you can download and save
this Google Earth (KML) file
to your home computer. Like the maps above, it contains every campsite, houseboat site, and day use site in Voyageurs National Park as of 2009.
There are also several hike-in campsites on the Kabetogama Peninsula, but a boat is required to access the trailheads. Some of these campsites are located on interior lakes and have canoes available for checkout through the Boats on Interior Lakes (BOIL) program. Check out this brochure here.
There are drive-up campsites located just outside of the park at the Woodenfrog and Ash River State Forest campgrounds. See the campgrounds page more information
.
Types of Campsites
Voyageurs National Park offers many different types of campsites for visitors to enjoy the park, from day use sites, small and large campsites to large group campsites and accessible sites.
More information
.

Regulations
A free permit is required for overnight stays in the park. You can get your permit at a park visitor center during regular business hours or self-register at one of the permit stations located near all park boat launch facilities.

Most campsites in the park are available only on a "first-come, first-served" basis. There are also two designated group campsites which may be reserved (fee applies).
There is an accessible campsite available on Namakan Lake.
Camping in Voyageurs National Park is limited to 14 days at a specific site between May 15th and September 15th, and a maximum of 30 days in a calendar year.
For futher information on Park Regulations click here.
Did You Know?

There are food lockers, picnic tables, tent pad sites, fire rings and a privy at many of the sites.  Pick up a Campsite, Houseboat, and Day Use Site map at a visitor center.