Weather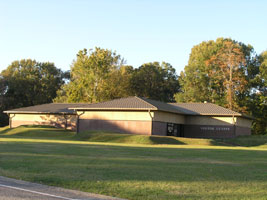 NPS Photo
WEATHER AND CLIMATE
Summers are sunny, hot, and humid. Winters tend to be mild; however, humid rainy periods occur throughout the year. Sudden and severe thunderstorms are common, so stay alert to weather forecasts. Check with rangers at the Visitor Center and/or
USS Cairo
Museum for updates on weather patterns.
Wear comfortable sportswear appropriate for the season, with walking or hiking shoes recommended.
Did You Know?

Thomas O. Selfridge, captain of the USS Cairo, commanded three boats which sank during the war. Each began with the letter "C"-Cumberland, Cairo, and Conestoga. The coincidence was noted after the Conestoga sank, and Selfridge was assigned to the USS Osage, which survived to the end of the war.