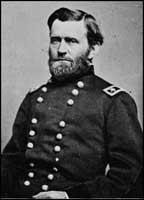 Maj. General Ulysses S. Grant
Commander of the Union forces during the siege of Vicksburg.
At the outbreak of the Civil War, Grant was working in his father's leather store in Galena, Illinois. He was appointed by the Governor to command an unruly volunteer regiment, where he took immediate control and turned the men into a disciplined group. By September 1861, he had risen to the rank of brigadier general of volunteers. Seeking to win control of the Mississippi Valley, he captured Fort Henry and attacked Fort Donelson in February 1862. When the Confederate commander asked for terms, Grant replied,
"No terms except an unconditional and immediate surrender can be accepted."
The Confederates surrendered, and President Lincoln promoted Grant to major general of volunteers.
At Shiloh in that April, Grant fought one of the bloodiest battles in the West, leading to more-or-less a tie between the two armies. President Lincoln fended off demands for his removal by saying,
"I can't spare this man--he fights."
His next major objective — Vicksburg — was a skillfully fought campaign to win this key city on the Mississippi, and cut the Confederacy in two.
At the start of the Vicksburg campaign, Grant's chief, Henry W. Halleck wrote,
"The eyes and hopes of the whole country are directed at your army, In my opinion, the opening of the Mississippi River will be to us of more advantage than the capture of forty Richmonds."