Licensed Tour Guides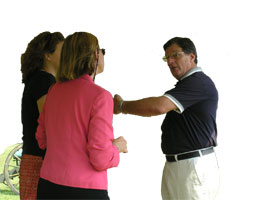 NPS Photo
Vicksburg National Military Park Licensed Tour Guides
The Licensed Park Guides have been making history come alive at Vicksburg National Military Park since the 1950's. They offer visitors the unique opportunity to explore the battlefield with a professional guide who has excellent knowledge of civilian life and military operations of the campaign, siege, and defense of Vicksburg in the spring and summer of 1863.
Tours are approximately two hours in length, and can be arranged for individuals, families, and groups of all sizes. Guides must ride in the visitor's vehicle as they are not permitted to provide transportation services.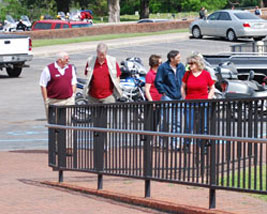 NPS Photo
The popularity of guided tours is evidenced by the number of repeat customers. Licensed guide services are provided upon request, but reservations are preferred. Availability information and reservations can be made through the Vicksburg Convention and Visitors Bureau by calling (601) 636-0583 or (601) 636-3827.
NPS Photo
$40.00/car (1-6 people) ($20.00 for each additional hour)
$60.00/van (7-15 people) ($30.00 for each additional hour)
$80.00/bus (16+ people) ($40.00 for each additional hour)
Did You Know?

Jefferson Davis served as a United States Congressman, Senator, Secretary of War, and war hero before being called upon to accept the Presidency of the Confederate States.