Bronze and Metal Preservation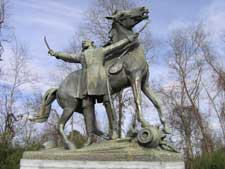 NPS Photo
Preservation of bronze sculptures in the park entail a thorough cleaning and application of hot and cold wax to bring out the deep bronze color of the metal. Untreated surfaces become covered with a dull green patina from several years of oxidation of the copper in the alloy.

After using a pressure washer to loosen the dirt and grime on the metal, xylene is applied with a sponge to reverse the chemical process of oxidation. Restoration workers must use protective gloves and masks, and once the xylene evaporates, a tac rag is used to clean the surface and remove any left-over particles.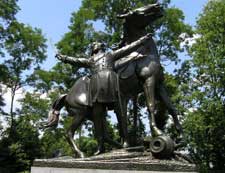 NPS Photo
The next step involves treatment with an application of hot wax. The wax is a mixture which is heated, mixed, then allowed to cool into a thick paste-like substance which can be applied easily with a brush.

A final treatment of a cold wax forms a hard protective barrier to isolate the metal from the effects of weather, sunlight and airborne contaminants.