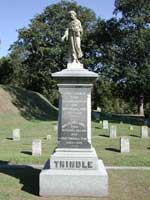 NPS Photo
The first national cemeteries established by Congress in 1862 were to provide a burial place for
"soldiers who shall die in the service of the country".
At the time, this provision applied only to Union war dead. Following the Spanish-American War, veterans of later wars became qualified for burial in national cemeteries, and approximately 1,300 veterans of conflicts subsequent to the Civil War are interred in Vicksburg National Cemetery. A scattering of other burials includes veterans who served during peace time, former cemetery superintendents and their families, wives and children of veterans, government workers, and a few civilians of the past century.
Vicksburg National Cemetery was under the jurisdiction of the War Department until 1933, when administration was turned over to the Department of the Interior's National Park Service. The last cemetery superintendent, Randolph G. Anderson, retired in 1947, and supervision of the cemetery became the added responsibility of the superintendent of Vicksburg National Military Park.
Vicksburg National Cemetery has been closed for burials since May 1961 except to those individuals who had reserved space for interment prior to that time.