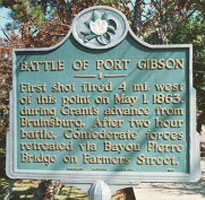 The morning hours witnessed Green's Brigade driven from its position by the principle Federal attack. Brigadier General Edward D. Tracy's Alabama Brigade, astride the Bruinsburg Road, also experienced hard fighting. Although Tracy was killed early in the action, his brigade managed to hold its tenuous line.
It was clear, however, that unless the Confederates received heavy reinforcements, they would lose the day. Brigadier General John S. Bowen, Confederate commander on the field, wired his superiors:
"We have been engaged in a furious battle ever since daylight; losses very heavy. The men act nobly, but the odds are overpowering."
Early afternoon found the Alabamans slowly giving ground. Green's weary soldiers, having been regrouped, arrived to bolster the line on the Bruinsburg Road.
Even so, by late in the afternoon, the Federals had advanced all along the line in superior numbers. As Union pressure built, Cockrell's Missourians unleashed a vicious counterattack near the Rodney Road, and began to roll up the blue line. The 6th Missouri also counterattacked, hitting the Federals near the Bruinsburg Road. All this was to no avail, for the odds against them were too great. The Confederates were checked and driven back, the day lost. At 5:30 p.m., battle-weary Confederates began to retire from the hard-fought field.
The battle of Port Gibson cost Grant 131 killed, 719 wounded, and 25 missing out of 23,000 men engaged. This victory not only secured his position on Mississippi soil, but enabled him to launch his campaign deeper into the interior of the state. Union victory at Port Gibson forced the Confederate evacuation of Grand Gulf and would ultimately result in the fall of Vicksburg.
The Confederates suffered 60 killed, 340 wounded, and 387 missing out of 8,000 men engaged. In addition, 4 guns of the Botetourt (Virginia) Artillery were lost. The action at Port Gibson underscored Confederate inability to defend the line of the Mississippi River and to respond to amphibious operations. Confederate soldiers from these operations are buried at Wintergreen Cemetery in Port Gibson.