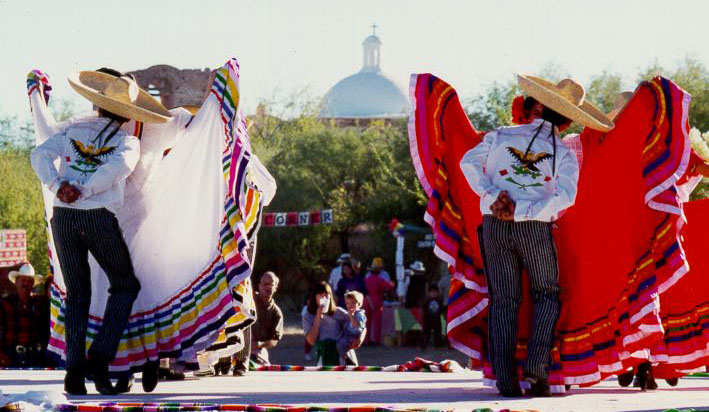 NPS Photo
When is it? What is it?
Free! Held every year during the first full weekend in December
Saturday, December 6th, 2014: 10:00 a.m. - 5:00 p.m.
Sunday, December 7th, 2014: 10:00 a.m. - 4:00 p.m.
In recognition and celebration of the many cultures that were historically and are presently associated with the Santa Cruz Valley, the Tumacácori Fiesta presents the traditional creations of these cultures. The fiesta features around fifty food and craft booths, continuous live entertainment on stage, and activities for families each day. On Sunday, the day begins at 10:00 a.m. in front of the Visitor Center with a procession through the Fiesta grounds to the historic church, followed by a traditional mass in front of the church. The mission grounds and park are open throughout the weekend and admission is free.
Vendors and Performers
Some vendors have participated in the annual Fiesta since its inception more than 40 years ago. Others rotate in each year. If you would like to participate as a vendor or performer, consider the following:
Vendor booths are for Tumacácori's cultural demonstrators and 501c3 designated non-profit organizations only. No commercial or private operations are permitted and all proceeds from food or products sold must go back to the official non-profit organization.
All products for sale must be handcrafted and culturally appropriate.
Are you a musician, dancer, or other performer? Contact Anita Badertscher at (520) 377-5063 to inquire about performance space and time at this year's Fiesta.

Schedule of Performers
SATURDAY, December 6, 2014
9:45 a.m. Blessing and opening of the 44th annual Tumacácori Fiesta

10:00 a.m. Mariachi Luz de Luna from Tucson

11:00 a.m. Lourdes Catholic School Folklorico Dancers from Nogales

12:00 p.m. Southern Mumsigo (waila) from Sells

1:00 p.m. Raiz Latino from Rio Rico

2:00 p.m. Danza Azteca Tonantizin from Tucson

3:00 p.m. Sahuaro Marimba from Nogales, Sonora

4:00 p.m. Pure Native Waila from Tucson
SUNDAY, December 7, 2014

Please note that no photos or videotaping are permitted during the procession or Catholic Mass, or while sacred dances are being performed. ("NO PHOTOS" signs will be posted prominently at restricted times and locations.)
10:00 a.m. Procession with Mass to follow (at approximately 10:30)

11:00 a.m. Southern Arizona Old Time Fiddlers from Tucson

12:00 p.m. Seven Mile Junior Crown Dancers from White River

1:00 p.m. Seguridad Social Baile Folklorico from Nogales, Sonora, Mexico

2:00 p.m. Agua Fría (norteño) from Rio Rico

3:00 p.m. Gertie n' the TO Boyz from Tucson

4:00 p.m. Fiesta closes


Activities
Mission tour (visitor center)
Saturday 10-4, hourly
Sunday 12-3, hourly
Folklórico workshop (Discovery Corner)
Saturday 11, 1:00, 3:30
Sunday 11, 2:00
River walk (bulletin board near Discovery Corner)
Saturday 11:30, 3:00
Sunday 11:30, 3:00
Photography workshop (Discovery Corner)
Saturday 12, 2
Sunday 12, 2
Piñata breaking (Discovery Corner)
Saturday 12:30, 2:30
Sunday 12:30, 2:30
All Day, Both Days
Traditional food, crafts, information, demonstrations and activities including:
Papel de China

paper flower making

Living history re-enactors

Rawhide braiding and horse hair twisting

Mano and metate mesquite bean grinding
Please note:
Dogs and other pets are NOT allowed in the park or on the Fiesta grounds during the Fiesta weekend.
The Tumacácori Anza Trailhead is closed to horseback riders during Fiesta.