Plan Your Visit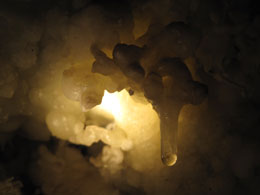 NPS
The caves and visitor center are open mid-May through late-September. Operating hours and tour schedules are available here.The visitor center is wheelchair accessible and offers video programs and exhibits about the caves.
The trail to the caves provides spectacular views of American Fork Canyon and Utah Valley. It climbs steeply 1,092 feet over 1 1/2 miles, and is not wheelchair accessible. No baby strollers or wheeled vehicles are allowed on the trail. Local residents regularly hike the trail for fun and fitness.
Cave tours frequently sell out well in advance, particularly on weekends and holidays. Plan your visit in advance, review the information on this website, and call the Monument at (801) 756-5239 for further assistance.