Cave tour tickets

When you purchase your tickets on recreation.gov, the time options listed will be for your hike time, which is the time you should pick up your tickets at the visitor center. Plan on 3-4 hours from that time, round trip.
Plan Your Visit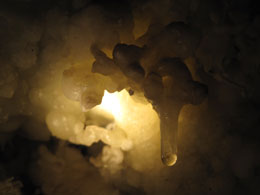 NPS
The caves and visitor center are open mid-May through late-September. Operating hours and tour schedules are available here.The visitor center is wheelchair accessible and offers video programs and exhibits about the caves.
The trail to the caves provides spectacular views of American Fork Canyon and Utah Valley. It climbs steeply 1,092 feet over 1 1/2 miles, and is not wheelchair accessible. No baby strollers or wheeled vehicles are allowed on the trail. Local residents regularly hike the trail for fun and fitness.
Cave tours frequently sell out well in advance, particularly on weekends and holidays. Plan your visit in advance, review the information on this website, and call the Monument at (801) 756-5239 for further assistance.

Did You Know?
Cave Draperies, or Cave Bacon, form as calcite rich water trickles down an inclined bedrock surface. Over thousands of years a thin line of calcite builds up along the wall as water follows this same path over and over. These formations appear in caves in all different shapes, sizes and colors.