Statue of Liberty to Reopen July 4

The Statue of Liberty will reopen to the public on July 4, 2013. Tickets and reservations are now available through Statue Cruises, including limited tickets to the crown and pedestal through the summer. More »
Your Safety & Security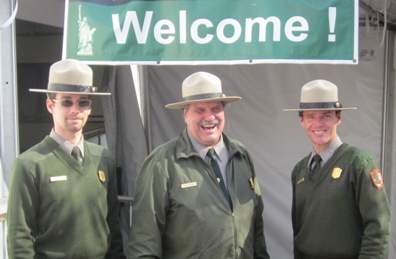 SECURITY INSPECTIONS
Visitors and their belongings are subject to inspection. The National Park Service appreciates your patience and understanding of these procedures and the additional time that may be required.
WHAT IS THE SECURITY SCREENING PROCESS?
Visitors to the Statue of Liberty and Ellis Island must pass through primary security screening (similar to airport security procedures) at Ellis Island.
Visitors with advanced reservations for the inside of the Statue of Liberty must pass through a secondary security screening at the base of the Statue before entering any portion of the monument.

It is recommended that you include ample time and maintain a flexible schedule to include boarding the ferry and security screening.
Please keep in mind that wait times can be several hours, particularly during peak seasons, including summer, weekends and holidays.
Please note that there are no locker storage areas at the screening facilities in either Battery Park or Liberty State Park.
PROHIBITED ITEMS ON OUR FERRIES AND AT THE STATUE OF LIBERTY
ALL weapons, including firearms, knives (including pocket knives and pen knives), mace (or pepper spray), any dangerous items, and any "dual-use" items that could be dangerous are strictly prohibited in the park and on the ferry system.
Scissors, sharp instruments, and tools are prohibited.
Do not carry any of these types of items into the security screening area. Items that are surrendered will not be returned. If you are unsure about an item, please do not bring it.
LARGE packages, suitcases, carry-on luggage and other large parcels will not be permitted on the ferry systems or at Liberty and Ellis Islands.
All visitors must keep bags, packages, strollers, etc. with them at all times. Do not leave any items unattended at any time.
Thank you for your cooperation - safety is everyone's responsibility. If you SEE something--SAY something to a US Park Police Officer or National Park Ranger.
HAVE A QUESTION?
If you have any questions regarding security procedures, please contact the park.
Did You Know?

The only way to get to Liberty Island is by using the Statue of Liberty - Ellis Island Ferry system.  Private vessels are not allowed to dock at Liberty and Ellis Islands.