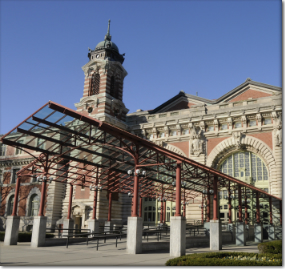 NPS Photo
ELLIS ISLAND IMMIGRATION MUSEUM

How far would you travel to find a better life? How much would you sacrifice in order to provide for your family? If you answered "Whatever it takes," you echo the attitudes of the 12 million immigrants who passed through these now quiet halls from 1892 to 1954. Ellis Island afforded them the opportunity to attain the American dream for themselves and their descendants. Come hear their stories.

All ferry tickets include access to Ellis Island and the Immigration Museum. The museum is open to the public, although many artifacts have been removed and placed in a storage facility following the aftermath of Hurricane Sandy. For current information, check the alert at the top of
the Ellis Island website. To visit both islands in one day, the
National Park Service recommends an early ferry departure.