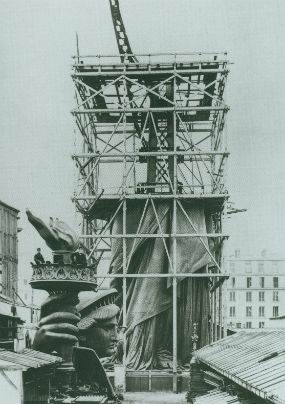 National Park Service, Statue of Liberty NM
Eiffel designed a tall, central pylon (92 feet, or 28 meters) to be the primary support structure of the Statue's interior. The pylon serves as the central attachment point for a lightweight truss work of complex asymmetrical girders which forms the Statue's body. To connect the Statue's copper skin to the pylon, flat metal bars are bolted at one end to the pylon and to the copper skin at the other end. While the bars hold the Statue together, they also create flexible suspension (due to their malleability), acting like springs allowing the Statue to adjust and settle into the environment. This elasticity of Eiffel's design is important because the Statue has to withstand winds from New York Harbor, temperature changes, and various other weather conditions.
Once his plans were approved, Eiffel supervised the Statue's internal construction until its completion in late 1883. A few years later, Eiffel began his most famous project: the Eiffel Tower, which was completed for the Universal Exposition of 1889 (Exposition Universelle de 1889) in Paris. Eiffel died on December 27, 1923 in Paris, France.