Frédéric-Auguste Bartholdi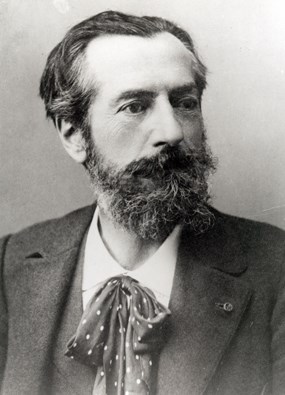 Born on August 2, 1834 in Colmar, Alsace, France, Frédéric-Auguste Bartholdi was the French sculptor who designed the Statue of Liberty. Early in his career, Bartholdi extensively studied art, sculpture, and architecture. From 1855 to 1856, Bartholdi embarked on a life-changing trip throughout Europe and the Middle East with some fellow artists. When they visited the Sphinx and Pyramids of Giza in Egypt, Bartholdi discovered his passion for large-scale public monuments and colossal sculptures. In 1869, the Egyptian government expressed interest in designing a lighthouse for the Suez Canal. Eager and excited, Bartholdi designed a colossal statue of a robed woman holding a torch, which he called Egypt (or Progress) Brings Light to Asia. When he attended the canal's inauguration, however, Bartholdi was informed that he would not be able to proceed with the lighthouse.
Although disappointed, Bartholdi received a second chance to design a colossal statue. In 1865, Édouard de Laboulaye proposed that a monument representing freedom and democracy be created for the United States. Bartholdi was a great supporter of de Laboulaye's idea and in 1870 he began designing the Statue of "Liberty Enlightening the World."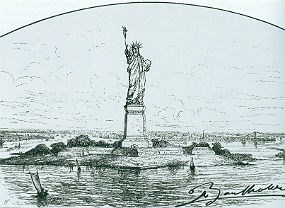 In the first few years after the Statue's conception, Bartholdi made a number of trips to the U.S. The moment he first entered New York harbor by ship, he spotted the location where he knew the Statue must stand - Bedloe's Island. Bartholdi saw New York as the gateway to America and it was at Bedloe's Island that Bartholdi envisioned the Statue rising out of the star-shaped Fort Wood. Bartholdi also used his trips to stir up support for the Statue - both ideologically and financially. When he returned to Paris in 1872, Bartholdi used his American contacts to assist in creating the Franco-American Union in Paris which raised 400,000 francs to fund the construction of the Statue.
De Laboulaye visited the United States once more in 1876 to display the Statue's massive arm and torch at the Centennial Exposition in Philadelphia. Afterwards the pieces were displayed in Madison Square Park, New York City until 1882 to assist in fundraising. Additionally, Bartholdi assisted with setting up the American Committee for the Statue of Liberty for fundraising in the United States for the pedestal.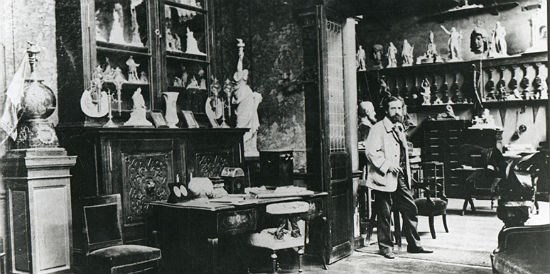 The Statue was fully constructed in Paris and presented by the Franco American Union to the United States Ambassador in 1884. In 1886, Bartholdi oversaw the Statue's assembly in New York and participated in its inauguration. At the ceremony, Bartholdi was presented with the key to the city and later climbed the Statue to release the tricolor French flag that veiled Liberty's face. Bartholdi died of tuberculosis in 1904.
Last updated: August 22, 2020