Statue of Liberty to Reopen July 4

The Statue of Liberty will reopen to the public on July 4, 2013. Tickets and reservations are now available through Statue Cruises, including limited tickets to the crown and pedestal through the summer. More »
Liberty Enlightening the World
The Statue of Liberty Enlightening the World was a gift of friendship from the people of France to the people of the United States and is a universal symbol of freedom and democracy. The Statue of Liberty was dedicated on October 28, 1886, designated as a National Monument in 1924 and restored for her centennial on July 4, 1986.
Features
How can I visit the crown or pedestal?

Liberty Island will reopen to the public on July 4, 2013. Learn how to reserve limited tickets to visit the Statue of Liberty's pedestal or crown.

Read More

Virtual Tour

Visit the Statue of Liberty from anywhere! This virtual tour includes the Statue's history and symbolism.

Read More

Recovery After Hurricane Sandy

Find out how the National Park Service has been restoring Statue of Liberty National Monument so that the park may reopen to the public.

Read More
Did You Know?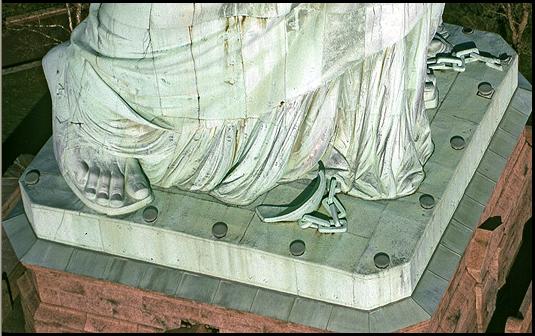 Freedom is not standing still.  A symbolic feature that people cannot see is the broken chain wrapped around the Statue's feet.  Protruding from the bottom of her robe, the broken chains symbolize her free forward movement, enlightening the world with her torch free from oppression and servitude.