Island of Hope, Island of Tears
How far would you travel to find a better life? What if the journey took weeks under difficult conditions?  If you answered "Whatever it takes," you echo the feelings of the 12 million immigrants who passed through these now quiet halls from 1892 to 1954. Ellis Island afforded them the opportunity to attain the American dream for themselves and their descendants. Come hear their stories.
Read More
Features
Hurricane Sandy Recovery

The storm damaged our electrical, water, sewage and phone systems much more than our historic resources. Slowly but surely, we repair and restore.

Read More

Stay Connected!

Get up-to-the-minute information that may affect your visit on our Twitter feed; view Ellis Island photos on Flickr; RSS fills you in on latest news.

Read More

Looking for Your Ancestors?

Here are some helpful hints and a list of resources to help you in your search!

Read More
Did You Know?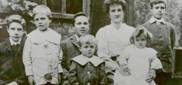 Most Americans remember Bob Hope for his work in the entertainment business as a comedian, actor, dancer and singer, as well as his work with the American troops abroad. Few people know that Bob Hope was an immigrant from England who came here with his family and passed inspection at Ellis Island on March 30, 1908, at the age of 5. (center of photo) More...