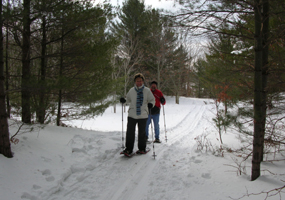 Kerry Kelly 2007
Snowshoeing is permitted on all snow-covered dunes, fields, and forests in the Lakeshore, although it is recommended that you stay on well-marked pathways. If you are snowshoeing along a cross-country ski trail, please stay off to the side of the skiers' tracks.
Guided Snowshoe Hikes with a ranger are offered on Saturdays and during the winter holidays. Hikes will start at the Philip A. Hart Visitor Center at 1:00 pm. Bring your own snowshoes or try out those available for use on the hikes. Rangers will first provide basic snowshoeing instructions and then everyone will drive to the trailhead. During the snowshoe hike, rangers will share interesting facts about the park's unique features. Dress in layers and plan to be outside until about 3:00 pm, then return borrowed snowshoes to the visitor center. Not only is snowshoeing easy, fun, and good exercise, it is also an activity that can be enjoyed by all ages. The ranger-led hikes are mildly strenuous, yet they proceed at a leisurely pace for approximately one and a half miles. This allows visitors an opportunity to look for signs of wildlife or evidence of ancient glaciers or to simply experience a winter wonderland. The National Lakeshore has a limited supply of snowshoes and will provide them free of charge. Participants need only purchase the park entrance pass to join in the fun. Space is limited, so please call 231-326-4700, ext. 5010 for more details and to make reservations. If you make a reservation but then need to cancel, please call and let us know so we can contact visitors that are on our waiting list.
Cross Country Skiing opportunities are plentiful as popular hiking trails turn into snow-covered paths. The Sleeping Bear Heritage Trail is groomed for cross country skiing when there is sufficient snow. Access to this trail is at the Dune Climb, Glen Haven village, and on Forest Haven Road in Glen Arbor. Other designated trails for cross country skiing include Old Indian, Platte Plains, the Shauger Hill portion of the Scenic Drive Ski Trail, Windy Moraine, Alligator Hill, Bay View, and Good Harbor Bay. Maps are available at the visitor center in Empire. Please note that with the exception of the Sleeping Bear Heritage Trail, these trails are not groomed, and for safety purposes it is always recommended that you ski with another person.
Pets are not allowed on designated ski trails from December 1 through March 31. Pets on a 6' leash are allowed on Empire Bluff and Pyramid Point trails throughout the year. Pets on a 6' leash are also allowed on the roadway portion (but not on the Shauger Hill Trail portion) of the Scenic Drive Ski Trail.