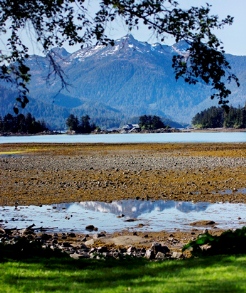 NPS / Katy Kildee
Surrounding Environment
Though only a fraction of the acreage of other national parks in Alaska, Sitka NHP contains a variety of habitat types. While walking the park's Totem Trail, visitors can experience temperate rain forest, open meadow, the Indian River estuary, and various intertidal zones. By looking over one's shoulder, the snow-streaked mountains indicate the ruggedness of Baranof Island. The area experiences a maritime climate with relatively heavy precipitation and moderate temperatures. Often shrouded in coastal clouds, the peaks and glaciers at high elevations are characteristic of Southeast Alaska.
Biodiversity
The park's plant life is in a temperate rainforest which includes a wet, closed-canopy forest with large Sitka spruce and Western hemlock trees. Some forested portions of the park landscape exhibit old growth characteristics, like multiple canopy layers with a variety of tree ages and sizes, downed wood, and a dense understory of shrubs. The non-forested areas of the park include the Indian River estuary and wetlands, the beach edge, and the historic Tlingit fort site which is a maintained grassy opening enclosed by the surrounding forest.
Animals such as pink and chum salmon are an integral part of the park, entering the lower Indian River to swim upstream and spawn in late summer. Coho and Chinook salmon, Dolly Varden char, and steelhead trout migrate through the park as well. The marine shoreline supports a variety of migratory waterfowl and shorebirds during spring and fall. Bald eagles, gulls, crows, and ravens scavenge along the tidal flats and the river, especially during the annual herring spawn and salmon runs. Mammals such as shrews, mice, voles, red squirrels, mink, and river otters also inhabit the park. Sitka blacktail deer and brown bears occupy the upper Indian River drainage and occasionally enter the park. Marine mammals can be spotted from the shore as well, including seals, sea lions, sea otters, and whales.