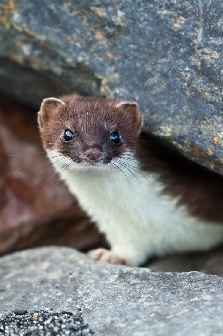 Photo from SCS
Endemic Species

On Baranof Island and the surrounding island archipelago, biodiversity is characterized by several endemic species, or organisms unique to a restricted area. Some examples of endemic species are the Baranof Island ermine, the Sitka root vole, and the Sitka deer mouse. All three require varied habitats that are tied to prey abundance. Endemism is common on the North Pacific Coast because of its historical isolation from the rest of the continent, ecological complexity, and narrowness between the ocean and mountain ranges. Many organisms are restricted to certain islands and are more susceptible to endangerment because of their ranges and very specific habitat requirements. As human-caused changes occur, including development and urban expansion, these mammals could be threatened with permanent elimination from the only place they call home. Preserved public lands provide opportunities for endemic species to find sanctuary. Just as Sitka National Historical Park is a treasured place for human visitors, mammals also find refuge amongst the ever-changing world.
Bear Country

The Sitka brown bear (Ursus arctos sitkensisis) is also an endemic species: genetic studies suggest a distinctive lineage of brown bears that are restricted to the Admiralty, Baranof and Chichagof islands. Brown bears occupy the Indian River drainage and occasionally enter the park, often at the beginning of the salmon runs. They are characterized by a hump-like mass of muscle on their shoulders, and their fur color can range from black to tan. These mammals are omnivores, eating berries, shrubs, fish, and small rodents. Like most bears, brown bears will hibernate during winter months and become active in the spring and summer. They typically have a solitary lifestyle, but mother bears will stay with her cubs for 2-3 years, or until they are ready for independence.
Encounters with brown bears are unlikely at Sitka National Historical Park, but preparing to visit the park should include some basic bear safety knowledge. Please see our Planning Your Visit page for more information.