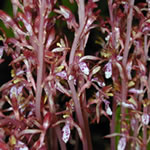 The Sitka spruce forest type is found on relatively unstable landforms such as the floodplain on the east side of the Indian River, along the trail in low areas with greater soil water movement. It is also found near the Russian Memorial and near an old asphalt plant site. This is a successional community that is likely to be gradually replaced by hemlock. It is open-canopied with dense devil's club and salmonberry shrub layer.
Rapidly growing open-canopy red alder stands are on both sides of the river, where they tolerate subsurface flooding and drainage conditions. Under the even height alder overstory are salmonberry shrubs and fairly well-developed forb layers. Alder communities are typically succeeded by spruce unless disturbance is extensive or repetitive. An alder stand also exists in the disturbed area southeast of the Russian Memorial.
Nonforested areas in the park are the estuary, wetlands, beach fringe, and historic Tlingit fort site, which is a maintained grass opening enclosed by the surrounding forest. The estuary is dominated by salt-tolerant, flood-tolerant plants. The beach fringe and the wetlands along the shoreline also are dominated by salt- and flood-tolerant species. A beach meadow that lies in the south-western section of the park is transitional between beach and forest. In the lowest, most frequently flooded area is a grass and umbel meadow that is able to tolerate salt and flooding during extreme high tides and storm tides. Red alder, spruce, and salmonberry have colonized slightly higher areas adjacent to the meadow.
A recent survey inventoried over 100 nonvascular plants (bryophytes and ferns). There is also a high diversity of lichens and mushrooms in the park.