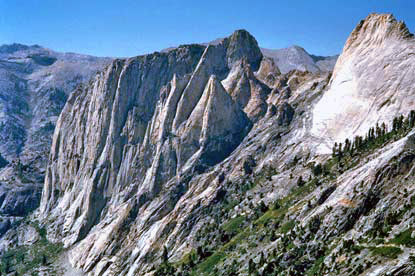 Annual Rock Climbing Closure Update
Rock climbing closures at Moro Rock in Sequoia National Park, and Chimney Rock in Kings Canyon National Park have been lifted. We thank you for your cooperation as we worked to protect nesting peregrine falcons.

All climbing routes between (and including) "South Face" and "Full Metal Jacket." are currently open.
Peregrine falcons historically nested on Moro Rock, and since nearing extinction due to DDT, they are back! Peregrines can be very sensitive to human activity around their nest area and may abandon the nest if disturbed. Nest sites will be monitored to provide current information on nesting and to ensure prompt re-opening of these areas. Closures are subject to changes based on current nesting status.
By respecting closures, you play an active role in the conservation of these amazing birds.
Outstanding Climbing
Sequoia and Kings Canyon National Parks are a great place to climb. The rock here is similar to Yosemite in quality. One can enjoy an endless variety of climbs from easy to extremely challenging-without the crowds and pressure of more famous climbing areas. Outstanding routes include the Obelisk, Grand Sentinel, and Chimney Rock. Most climbs require at least a day's hike in.
Protected wilderness
Remember that the rock here is an integral part of a larger ecosystem. Like the rest of the parks, it is protected as wilderness for people to enjoy in a natural state that preserves it intact for future generations of climbers. This means no motors (for example, motorized drills). Respect closures. On your approach, stick to trails. Climb clean.
Kings Canyon climbs
A good place to look for climbs is along Bubbs Creek. On the north side of the Bubbs Creek Trail, just before it crosses Charlotte Creek, are Charlito Dome and Charlotte Dome. The hike in is about 8 miles, but the multi-pitch possibilities are worth the haul.
Sequoia climbs
The easiest site to access in Sequoia is Moro Rock, just off the Generals Highway near Giant Forest. The west face offers 1,000 vertical feet of cracks and knobs. For a more remote climb, hike the High Sierra Trail to Angel Wings. At roughly 2,000 feet, this is one of the park's biggest walls. It's an 18-mile hike from Crescent Meadow. Other Sequoia highlights: Little Baldy and the quartzite Hospital Rock, both off the Generals Highway.
What you can do
Climb safely! Rescues endanger rescuers' lives, are expensive, and cause a lot of impact.
Know park rules and the principles of Leave No Trace. Stick to trails. Climb clean. Respect the wilderness character of the parks.
If you see climbers who are not following these principles, talk to them. Explain how they can minimize their impact and why it is important that they do so.
Clean up after others. Leave the rock better than you found it.
Respect closures. For example, Moro Rock and Chimney Rock are closed during peregrine falcon nesting season.