Winter Drives and Viewpoints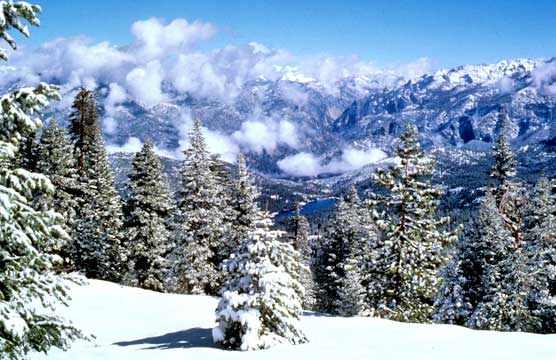 NPS Photo
NOTE: Winter weather is unpredictable. Snow can fall suddenly at any time of year on park roads in higher elevations, accumulate rapidly, and linger for days or weeks. Be prepared with tire chains, warm clothing, a sleeping bag, water, and emergency food in case you need to wait for the road to be plowed. Check the Current Advisories page for the latest road conditions.
Drive #1: Generals Hwy—Ash Mountain to Lodgepole
Drive #2: Generals Hwy—Lodgepole to Grant Grove
Drive #3: Hwy 180—Grant Grove to Hume Lake
(Note: Drives #1 & #2 can be combined to form a loop through the parks. If conditions permit, we hope you will get out of the car and see some of the many treasures visible only by foot.)
---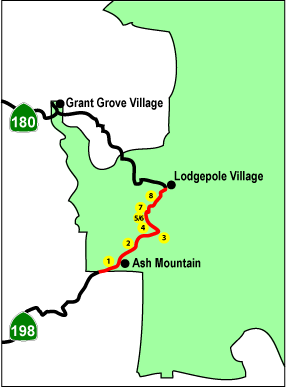 NPS Graphic
Drive #1: Generals Highway from Ash Mountain to Lodgepole
(NOTE: The upper part of this drive may close for snow removal at any time. Allow 1.5 hours one-way plus your time out of the car.)
The Kaweah River to Hospital Rock—views up and down the Kaweah Canyon as the highway winds up alongside the rapidly descending river.
Marble Falls—A 3.9 mile trail starting at Potwisha Campground Site #14 takes you to views of a delightful cascade. (Allow an extra 3-4 hours)
Hospital Rock—Stop and see the Native American pictographs and mortars. (Allow an extra 30 minutes)
Amphitheater Point—excellent side view of Moro Rock.
Deer Ridge—wide vistas looking down toward Fry's Point and Three Rivers.
Eleven Range—another vista overlooking the Kaweah Canyon toward the San Joaquin Valley.
Beetle Rock—A short hike from the Giant Forest Museum takes you to the Beetle Rock Family Nature Center and great views from Beetle Rock. (Allow an extra 20 minutes)
Marble Fork Canyon— The Generals Highway from Giant Forest to Lodgepole offers dramatic views of the Marble Fork Canyon through the trees.
Optional day trip: The base of Moro Rock and Crescent Meadow are accessible only by snowshoe or cross-country ski. (Allow several hours to a day if you choose to venture all the way to Crescent Meadow.)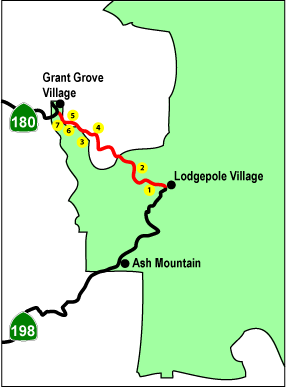 NPS Graphic
Drive #2: Generals Highway from Lodgepole to Grant Grove.
(NOTE: This road may close at any time—sometimes for an extended period—to allow for snow removal. Allow 1.5-2 hours one-way plus additional time for side trips and time out of the car.)
Lodgepole to Grant Grove—Peaceful snowy mountain vistas through the trees (on clear days, all the way to the San Joaquin Valley 6-7,000 feet below).
Little Baldy—If there is little or no snow, a 1.7 mile trail takes you to a rocky summit with grand views of the North Fork and Marble Fork canyons. (Allow an extra 3 hours)
Buena Vista Peak—If conditions permit, a 1-mile trail leads to great views of Redwood Canyon, Buck Rock Lookout, and the High Sierra. (Allow an extra 2-3 hours)
Big Meadows Road—This forest road serves as a cross-country ski trail in the winter, giving access to many miles of peaceful sub-alpine country. (Whatever time you take!)
Kings Canyon Overlook—Impressive winter views of the Kings Canyon and High Sierra wilderness.
Redwood Mountain Overlook—Excellent view overlooking the world's largest sequoia grove.
Redwood Mountain Grove—If you are properly equipped and adventurous, consider snowshoeing or cross-country skiing into the world's largest grove of sequoias. Enjoy the snowy silence among these slumbering giants. (Allow several hours, depending on how far you want to stroll under the sequoias)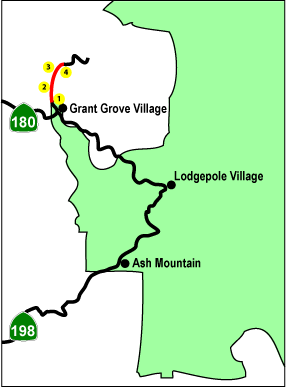 NPS Graphic
Drive #3: Hwy 180 Grant Grove to Hume Lake
(NOTE: This road may close at any time to allow for snow removal. Allow 1 hour one way plus time out of the car)
Panoramic Point Road—Spectacular vista of the High Sierra. If conditions permit and this road is open, go east through the new Kings Canyon Visitor Center parking lot, left around the meadow, then right at the intersection signed "Panoramic Point." Walk .25 miles up to the viewpoint. If the weather permits, consider continuing your hike on the 2-mile Park Ridge Trail to the Park Ridge Fire Lookout. (Allow an extra 4 hours to the lookout)
McGee View—Nice views of McGee Creek.
Converse Basin—Walk a 2-mile loop to see a huge ghost forest of sequoia stumps and one standing monarch, the Boole Tree. (Allow an extra 1.5 hours)
Hume Lake—See a beautiful lake with nice beaches formed by a rare and historic multiple-arch dam. Once it warms up, consider walking the easy 2.5 mile trail around the lake. (Allow an extra 1.5 hours to walk around the lake)