This short film describes the work done by young volunteers to improve wilderness trails through an active trails program sponsored by the National Parks Foundation.

Duration:

7 minutes, 29 seconds
This video gives an introduction to ecological restoration projects at Sequoia & Kings Canyon National Parks.

Duration:

4 minutes, 13 seconds
This short video shows how restoring water flow throughout Halstead Meadow in Sequoia National Park dramatically improved the meadow's condition.

Duration:

5 minutes, 24 seconds
This short video shows how removing non-native trout from selected high-mountain lakes at Sequoia & Kings Canyon National Parks gives native frogs a chance to survive.

Duration:

6 minutes, 42 seconds
This video demonstrates how and when to install tire chains and/or cables on vehicles when visiting Sequoia and Kings Canyon National Parks, CA. (MPEG/mp4)

Duration:

5 minutes, 35 seconds
Watch a slide show of the Woodlake Police and Fire Explorers volunteering on the Grant Tree Trail in Kings Canyon National Park. (Quicktime.mov)

Duration:

3 minutes, 13 seconds
A short video presentation of the solar powered Crystal Cave, in Sequoia and Kings Canyon National Parks. (Quicktime.mov)

Duration:

6 minutes, 13 seconds
A short public service announcement on river safety in Sequoia and Kings Canyon National Parks. (Quicktime.mov)

Duration:

57 seconds
Seguridad en el Río PSA Inglés/Español. (Quicktime.mov)

Duration:

1 minute
A short public service announcement on river safety in Sequoia and Kings Canyon National Parks. (Quicktime.mov)

Duration:

57 seconds
Seguridad en el Río PSA Inglés/Español. (Quicktime.mov)

Duration:

30 seconds
River Safety PSA

A short public service announcement on river safety in Sequoia and Kings Canyon National Parks. (MPEG/mp3)

Duration:

50 seconds

Credit/ Author:

National Park Service/Rick Cain

Date created:

2011-07-15
Seguridad en el Río PSA Inglés/Español

Anunciador: ¿Sabía usted que la causa Número #1 de muerte es el ahogamiento? (MPEG/mp3)

Duration:

55 seconds

Credit/ Author:

National Park Service/Rick Cain

Date created:

2011-07-15
River Safety PSA

A short public service announcement on river safety in Sequoia and Kings Canyon National Parks. (MPEG/mp3)

Duration:

30 seconds

Credit/ Author:

National Park Service/Rick Cain

Date created:

2011-07-15
Seguridad en el Río PSA Inglés/Español

Anunciador: ¿Sabía usted que la causa Número #1 de muerte es el ahogamiento? (MPEG/mp3)

Duration:

30 seconds

Credit/ Author:

National Park Service/Rick Cain

Date created:

2011-07-15
Sequoia and Kings Canyon National Parks and the Samlout Protected Area in Cambodia are "Sister Parks." In this relationship, a non-profit organization provides funding for U.S. park rangers to train Cambodian rangers in law enforcement techniques. (MPEG/mp4)

Duration:

13 minutes, 52 seconds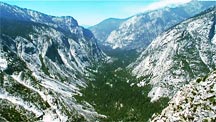 Gem of the Sierra
View a 16-minute film showcasing the three unique regions of Kings Canyon National Park—the Kings Canyon, Grant Grove, and the High Sierra. Flash Video format.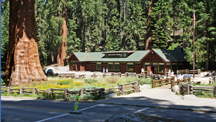 Giant Forest Restoration
View a short film about the amazing effort to restore an endangered sequoia grove after years of overuse. Flash Video format.
Changes are always happening in Sequoia National Park. Scientists have learned that phenophases, or life cycle stages, change in relation to climate conditions. Click on this video to see a full year of phenophases unfold before your eyes.

Duration:

1 minute, 31 seconds