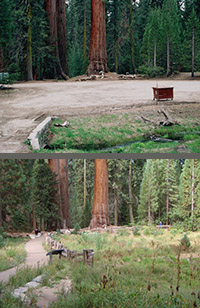 NPS Photo by Athena Demetry
Preserving an Ancient Sequoia Grove
The Giant Forest Restoration project was completed in 2005 with the removal of overnight visitor facilities, construction of day-use facilities to improve the visitor experience, and the restoration of forest vegetation in the former Giant Forest Village. Removal of facilities and the restoration of landforms, soils, and vegetation began in 1997.
During a five-year period, contractors removed 282 buildings, over 24 acres of asphalt roads and parking lots, 8 miles of aerial electric and telephone wire, underground propane tanks, a sewage treatment plant, and other associated infrastructure. A historic market building was converted to a museum for interpreting giant sequoia natural history to visitors. NPS crews restored a total of about 60 acres. Restoration included restoring natural landforms, mitigating soils impacts, favoring natural recolonization using prescribed fire, and planting to mimic natural regeneration following fire in surrounding areas of Giant Forest.
The restoration has been so successful that visitors find it hard to imagine that buildings were once there. Views that were once blocked by buildings and busy traffic have opened into dramatic scenic vistas of giant sequoia trees and meadows. Giant sequoia seedlings are successfully growing in former parking lots.