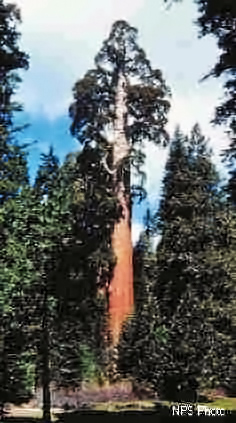 NPS Photo
It is difficult to comprehend the immense size, age and stature of the General Grant Tree, but it is easy to let your mind and spirit rise as its trunk carries your gaze toward the skies.
This tree has inspired thousands of people including R.J. Senior and the late Charles E. Lee of Sanger, California. In 1924, R.J. Senior visited what was then General Grant National Park, and found himself standing by the Grant Tree with a little girl. As they admired the huge tree, the girl exclaimed, "what a wonderful Christmas tree it would be!"
The idea stayed with Mr. Senior, and in 1925, with the help of Mr. Lee, the first Christmas program was held at the Grant Tree at noon on Christmas Day. Mr. R.J. Senior, president of the Chamber of Commerce, and Mr. Lee, then secretary of the Chamber, conceived the idea of an annual ceremony. Mr. Lee wrote to President Calvin Coolidge, who designated the General Grant as the Nation's Christmas Tree on April 28, 1926.
At one of the early gatherings, Colonel John White, longtime Park Superintendent, expressed the feeling that brings people here year after year. "We are gathered here around a tree that is worthy of representing the spirit of America on Christmas Day. That spirit is best expressed in the plain things of life, the love of the family circle, the simple life of the out-of-doors. The tree is a pillar that is a testimony that things of the spirit transcend those of the flesh."
Some people have returned many times to rededicate themselves to the spirit of the season in the presence of this magnificent tree.
In 1976, the 50th ceremony was attended by Elizabeth Gates, who remembered the adventure of getting to the first program with her father R. J. Senior. It was a much longer, colder and more hazardous trip than today's. Peter Beier, 27 years old at the first ceremony, still had a perfect attendance record at the 50th anniversary. He even made the trek to the tree in 1971 when a snowstorm had closed the road and the ceremony was held outside the park. He and a handful of hardy campers made it to the tree to watch as park rangers placed the traditional wreath.
A Sanger native who took part in the first ceremony as a child later returned to deliver the Christmas message. Jasper G. Havens was a minister in Idaho and Utah when he returned to speak in 1978. He recalled the cold trip of 1926 in the family's Model-T Ford. In 1984, Al Saroyan, then 73, was honored at the 58th ceremony as one of the three Sanger High School trumpet players who performed at the 1926 event.
The Sanger Chamber of Commerce continues to sponsor the annual Christmas "Trek to the Tree" on the second Sunday of December at 2:30 p.m. For more information, contact them at (559) 875-4575.